Declaring that she is a "humble servant" Junior Minister of Natural Resources Simona Broomes yesterday sought to defend a house being rented for her for $500,000, stating that she has her own home, but the government was responsible for providing her with somewhere to live in the city.
"…Government got to find a place to put me. Government brought me from my home, not a house. I don't live in a house I come from a home where I have my family," Broomes said in a short video posted on YouTube, which was shared by Director of Public Information Imran Khan.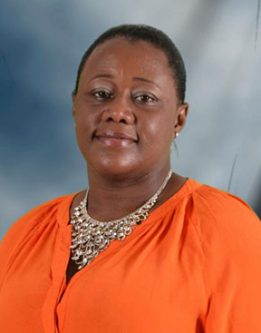 She said she did not want a house to be built and presented to her claiming that this was done during the past administration. "I am not in no supermarket. I am not up for sale…," the minister stated, while adding that while she has been listening to and reading the "rumours" they have not touched her since she has nothing in her closet, but in fact is an "ordinary woman" who is asking God to keep her heart in the right place.
Recently, it was disclosed that a house was rented from businessman Peter Ramsaroop for the sum of $500,000 by the Parliament Office and was occupied by Broomes for some time. The high rental raised eyebrows and questions were asked.
Approached, Clerk of the National Assembly Sherlock Isaacs disclosed that houses were rented for Broomes and Junior Housing Minister Valerie Patterson—both of whom originate from outside of the city—and that the ceiling was $500,000.
Many persons have criticized this ceiling saying that while the government should provide housing for those ministers who live outside of the city the amount in the case is exorbitantly high.
On Tuesday, the Work-ing People's Alliance (WPA), a member of APNU, said it could not support such a high rent.
"We are alarmed at the news that the government has been paying rent for two government ministers to the tune of $500,000. The WPA cannot in all conscience defend and support government payment of half a million rent for ministers when one places this fact against the 50% rise in salaries that was given in 2015," WPA executive member Dr David Hinds told a press conference on Tuesday.
Broomes, in the video, which involved her addressing a number of persons who turned up at her Duke Street office to support of her while applauding the work she has done as a fighter against Trafficking in Person (TIP), said that she availed herself to the people, made sacrifices and remains committed. She said her government is one that is standing up and fighting corruption.
Meanwhile, the group of mostly women who turned up at Broomes' office, some of whom were members of the Guyana Women Miners Organisation which she had founded, heaped praise on the minister and the work she has been doing.
One woman, who claimed that she is a staunch supporter of the PPP/C but got nothing under its administration, said Broomes opened the door for her and gave young miners an opportunity.
She said the minister spent her life fighting for young people and she is a successful miner because of her.
"She has selflessly given herself to the mining industry and to promoting young women in this country. It speaks for itself. Why fight somebody who is contributing to the country," another said.
Another miner said, "The things that are being peddled" against the minister are "evil and wicked" even as she claimed that God has appointed Broomes for a purpose.
"This woman has a beautiful home in Bartica, all the expensive things long before she come into this government. She fought for this country and God has appointed her at this time…tell the PPP to back off," she said.
Many others to loud applause and table-thumping heaped praise on the minister.
Around the Web