A Leopold Street man was yesterday remanded to prison on charges of armed robbery and possession of several grammes of marijuana for the purpose of trafficking.
Akeem Rajkumar, 27, of Leopold Street, George-town, was read a charge by Magistrate Fabayo Azore, which stated that on June 27, at Leopold and Cross streets, while armed with a gun, he robbed Dexter France of a grey bag containing a pair of Timbe-rland boots, 9½ pennyweights of raw gold, a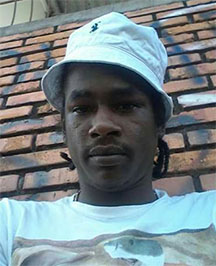 quantity of clothes and $44,000. The stolen items amounted to a total value of $194,000. The accused, who is a newspaper vendor, pleaded not guilty to the charge.
Moreover, the magistrate read Rajkumar a second charge which stated that on June 28, at Leopold Street, he had in his possession 50 grammes of cannabis for the purpose of trafficking. The defendant also denied this charge.
Police Prosecutor Simone Payne sternly objected to bail citing the nature, gravity and prevalence of the offence, and the fact that a gun was used during the robbery. According to the prosecutor, on June 28, the police, acting on information, went to the home of Rajkumar. She said the defendant was wanted for questioning in connection with a series of crimes. The prosecutor said that as the police were trying to take the accused back to the police station, a scuffle ensued between an officer and the defendant. She said that Rajkumar tried to disarm the rank and in the process, was shot in his leg. The prosecutor added that a search was conducted on the defendant and the cannabis was found in one pocket of his trousers.
Magistrate Azore later remanded a wounded Rajkumar to prison and adjourned the matter until July 26.
Around the Web