As the investigation into Wednesday's murder of the Upper Corentyne hire car driver continues, the 15-year-old, who was arrested by the police has since confessed to stabbing the man in the neck.
Commander of 'B' Division Ian Amsterdam told Stabroek News yesterday afternoon that a confession statement was given by the teenager and investigators are wrapping up to put together a case file. Amsterdam had previously told this publication that the teen claimed that driver would taunt him regularly about his older sister.
Deonarine Laljit, also known as "Baba", 37, of Lot 223 Number 72 Village, Corentyne died after he was stabbed in his throat on Wednesday afternoon. According to a post-mortem examination which was done yesterday, Laljit died from shock and haemorrhage due to a stab wound to the neck.
Meanwhile, the father of the teenager said that he has secured a lawyer for his son. The father, a fisherman, said, he returned from sea on Wednesday around 3 pm, and was told that his wife was at the Springlands Police Station. The father of six said this seemed odd and he immediately rushed to the police station, where he learnt that his second youngest child had been arrested on suspicion of murder.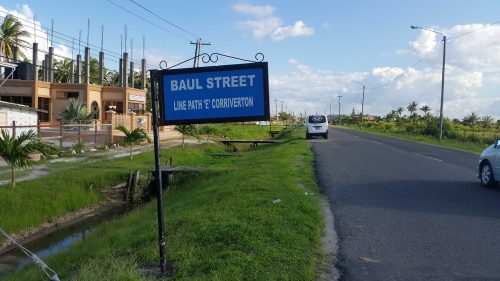 The man said he was immediately plunged into a state of shock and disbelief. He said he then began questioning his wife, who told him that their son had told the police that the man would "molest him about his older sister," which made him retaliate in such a way.
The father said it was then that his wife told him, that their son had complained to her several times in the past three months that the driver taunted him about his sister often, and mostly when the car was filled with passengers. The father said he did not know exactly what the taunts were. He explained that his older daughter, who is 28 years old, was married and had separated from her husband.
As regards his 15-year-old son, the man said he had dropped out of school because he was not doing well, but he was interested in working with computers or becoming an electrician. The father said he had been waiting for September to enroll him in a skills training programme, as that was what he wanted.
The man described his son as being willing and quiet. "He is a quiet child, all the time he does spend at home. He would pay my bills, go to the market and so, because his mother is not too healthy. Most of his time he is at home. He's not a boy that got friends and go out in the streets," he stated.
Describing the incident as "unbelievable" and noting that his son would have to face the law, he also pleaded for some sort of counselling for the teenager.
On Wednesday midday, the teenager entered Laljit's car in the vicinity of Number 69 Village, Corentyne. He reportedly had the murder weapon, a knife, stashed in a haversack he was carrying at the time. This publication was told that the teen waited until he was alone in the car with the driver and then stabbed him in his neck.
Residents of Line Path had stated that they saw Laljit's car stop at Baul Street, Line Path 'E', Corriverton at around 12.30 pm. Subsequently, they saw a teen rush out of the car, followed by the driver who had blood gushing from his throat.
One man, who asked to remain anonymous, stated that Laljit fell onto his bridge in a semi unconscious state and he immediately called the police, who rushed to the scene. However, eyewitnesses claim that by this time Laljit had already succumbed.
Police then launched a man hunt for the accused and found him minutes later in an abandoned house at Baul Street, Line Path 'E', Corriverton.
The murder weapon was discovered in the teen's possession. He is currently being held at the Springlands Police Station.
Around the Web