The Pan Caribbean Partnership against HIV/AIDS (PANCAP) yesterday launched its redesigned website to expand knowledge on the fight against HIV and AIDS in the region.
The redesigned site, which can be accessed at www.pancap.org, was launched at the Caricom Secretariat, at Liliendaal.
Addressing the launch, Director of PANCAP Dereck Springer said the new website will serve as a "one stop shop" for persons who are seeking up-to-date information on the regional and global HIV response.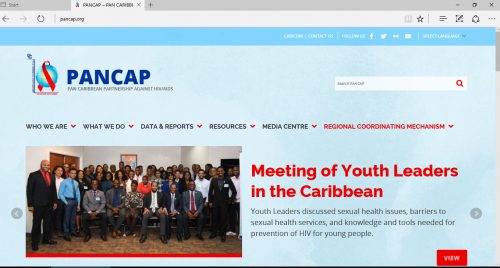 Springer noted that there was a need by users for a more dynamic knowledge-driven website that offers educational tools to equip users with new knowledge and how to deal with the disease with the changing landscape of HIV and AIDS.
He said that they have improved the overall functionality of the site so that users can easily navigate it and receive a wealth of data and information on topics. The site is hosted in English as well as Dutch, French and Spanish. "We trust that our efforts will improve capacity building and knowledge management within the partnership. Please help us to help you by generating and sharing content" Springer added.
The redesigned website features a highly interactive homepage, which features PANCAP's instructional toolkits for educators, faith-based organisations, for persons living with HIV, health workers and other stakeholder groups. Springer said the site also offers newly-posted documents and a social feed, which highlights posts from PANCAP social media platforms. A document library, podcasts and original webinars are also some of the new features on the site.
The redesign was funded by the President's Emergency Plan for Aids Relief (PEPFAR) and the United States Agency for International Development (USAID) and is the initiative of the PANCAP Knowledge for Health project, which is a collaboration between PANCAP and Johns Hopkins University in Baltimore.
Mark Oviatt, USAID Eastern and Southern Caribbean Principal Officer (Guyana & Suriname), who also spoke at the launch, highlighted the help the agency offered to PANCAP for the redesign. Oviatt noted that the achievement is going to add so much more to preventing and treating HIV and AIDS.
He said that in an environment of reduced international funding for HIV, it is critical for PANCAP to provide strong coordination and foster collaboration to maintain the gains partners have already achieved around common priorities and goals.
Meanwhile, Minister of Education Nicolette Henry highlighted the need for information on HIV and AIDS to be available.
She noted that innovative measures, such as the redesigned website, are very helpful in getting closer to the goal of the elimination of HIV through the use of information.
Around the Web