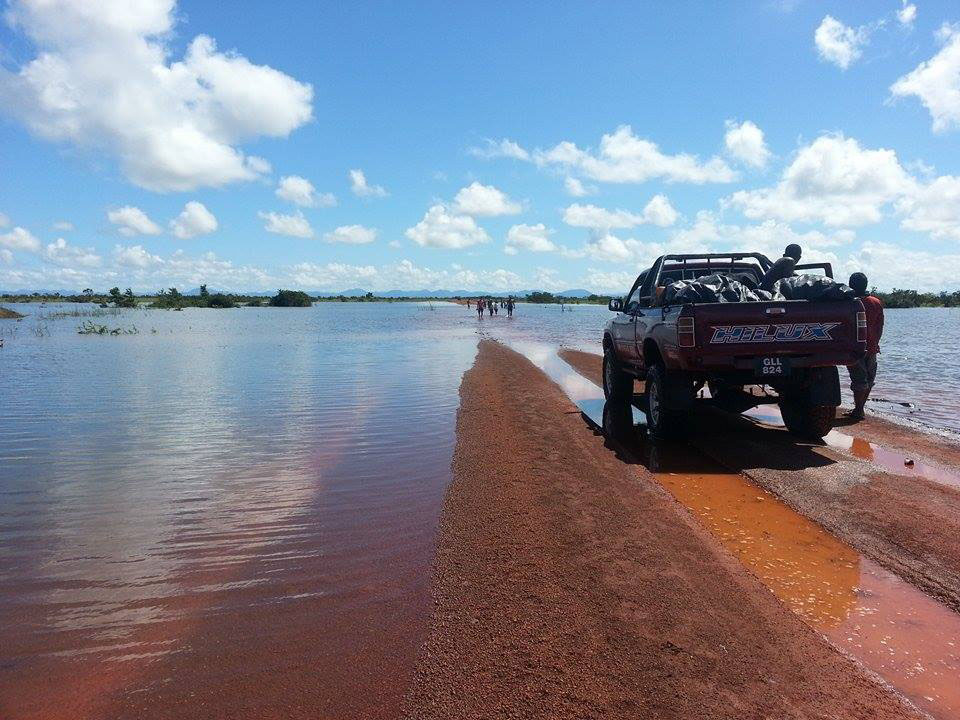 With heavy rainfall forecast for northern Brazil over the weekend, the head of the Civil Defence Commission (CDC) Retired Colonel Chabilall Ramsarup yesterday warned that flood affected residents of Region Nine (Upper Takutu/Upper Essequibo) would have to prepare for the worst.
Ramsarup told a post-Cabinet press briefing, held at the Ministry of the Presidency, that with the heavy rainfall expected in northern Brazil, the floodwater could rise.
Following recent continuous rainfall at night, several villages in the region have been flooded, forcing their evacuation. There heavy rainfall in Brazil has also caused overtopping of the Ireng and Takutu rivers.
Ramsarup, who accompanied Minister of Agriculture Noel Holder and Minster of State Joseph Harmon, stated that the Region Nine flood situation is difficult to influence. He said that what was discovered at a meeting on Thursday between Guyana and Brazil was that the water in the Rio Branco is rising because of heavy rainfall in north Brazil.
Harmon informed that a brief meeting took place between the Commander of the First Infantry Brigade in Brazil, and a Guyana Defence Force Colonel at the Takutu Bridge, which separates the two countries. He told reporters that an undertaking was given that the Brazilian authorities will look at the situation at their end, and within another two weeks there will be a joint border committee that will look at these issues.
Ramsarup stated that there has been sunshine for almost the entire week in Region Nine, and the water has fallen "somewhat" in the Lethem area, but all the other sub-regions are flooded. He said that the CDC has advised the farmers to reap the crops which could be reaped, and to stock up the cassava. He said that a number of millers are in the Lethem area, and farmers are being advised to either take their cassava crop to the mill or let the mill come to the crop, and ensure that as much farine and cassava bread is made as is possible. He assured that there is no shortage of food in that region but if the flooding persists then it could change.
He said that while CDC is hoping that the rain in northern Brazil eases, according to the weather forecast, three days of rain is expected starting last night (Friday) and ending tomorrow. This, he said, may cause both the Ireng and Takutu rivers to rise, and this will flow straight across to the Essequibo and other rivers in the surrounding area.
He said that as at 8 am yesterday there were still reports of flooding in all the districts in the region. He added that cleaning hampers, food stuff and nutrients for the animals are being taken into the region to be distributed, while noting that a total of 36 persons are being housed in two shelters. Residents of Lethem are being advised that even though the water has receded, those who were forced to leave their homes should not return until the all clear is given.
According to Ramsarup, there have been reports of water-borne diseases and the Health Ministry has informed that they are in possession of adequate amounts of medication to deal with this.
The only other problem, he said, are snakes, but to date there have been no reports of victims of snake bites.
Ramsarup said that the CDC is communicating to residents via Radio Lethem daily, advising them on what needs to be done, and how to go about getting it done.
'Not a Guyana situation'
Meanwhile Holder said that the situation in the Rupununi is "problematic," as the water in both the Ireng and the Takutu Rivers has risen to about 25 feet.
"Now this is problems, because it is not a Guyana situation. What seems to be happening is that the Amazon has backed up into the Rio Negro, which is backed up into the Rio Branco, which of course is backed up into the Ireng and the Takutu…and this is a problem because what can you do about that. It's not a Guyanese problem," he stressed.
He said that it is a more difficult situation to surmount because while "we can handle the situation to some extent on the coast, pumps, drainage, sea wall …what do you do in a situation with the Rupununi?"
Harmon stressed that government will do all it can to ensure citizens are protected from the vagaries of the weather. He said that while much cannot be done about the present situation, government is taking whatever steps it can at a national level and is engaging international partners to ensure that relief can be brought to the citizens of the country.
Meanwhile, Regional Vice Chairman Karl Singh told Stabroek News last evening that the RDC has advised those in shelters to remain there until they are cleared to leave.  "We are not advising them to return home, because of the after effects of the flood. So we are still keeping them in the shelters," Singh noted.
As it relates to the outlying villages, the Vice-Chairman said that the main concern is the impact of the flood on the farms, before noting that the RDC continues to encourage farmers to reap as much of their crops as possible, and as early as possible.
Considering that the weather forecasts predicts there will be heavy rainfall over the next three days, Singh said they have been in constant contact with the authorities in Brazil and are monitoring the situation
"Based on information communicated to us from the authorities in Brazil, it would seem that the Rio Branco is still coming up and so there is potential for us here in the Rupununi to be affected, nonetheless we are still monitoring and making sure the necessary measures are in place to address the situation if the need arises," the regional official said.
'Not as easy as it sounds'
Reports coming out from the South Rupununi yesterday indicated that they have experienced heavy rainfall for the past two days.
In South/Central Rupununi village of Potarinau, reports are that the walls of several houses have collapsed after a night of heavy rainfall.
"I saw on the news tonight they say that it's all sunshine in Region Nine, but I want people to understand that Region Nine, is not just Lethem and its immediate environs. We have had rain in the south for the past two days, and our farms continue to be affected," said former Toshao and current resident of Aishalton, Tony James.
While residents have been advised to salvage as many crops as they can, given the fact that their farms are now inundated, James said that persons are finding this task to be especially challenging, since items such as fuel and firewood are hard to source.
"In many of our villages 85 to 90 percent of our farms have been flooded and people are having a hard time sourcing fuel to power their little machines because it is very expensive right now. We also use the firewood when we are parching our cassava bread and farine, but with all this rain it's really hard to find dry fire wood anywhere," he explained.
"Another thing is that the community support is not really there because everyone is busy trying to save their own farms…we are being advised to save as much cassava as we can, but it's not as easy as it sounds, it's really not something that can be done in one day," he added.
Commenting on the looming possibility of there being a food shortage, James explained that while there has not been any recent request for food, the situation could very well make an unfortunate change by the end of August.
The flooding in Region Nine, comes after Regions Seven (Cuyuni-Mazaruni) and Region Eight (Potaro-Siparuni) were severely flooded last month by rain-swollen rivers. Hundreds of dwellings were severely damaged or swept away, and farms flooded, as relief operations had to be mounted. Flood waters in those two regions have since receded.
Around the Web