In an effort to alleviate the problems faced by miners traversing several hinterland roads, Minister of Public Infrastructure David Patterson yesterday said that weight restriction systems are currently being put in place.
Patterson made the announcement to the National Assembly in response to questions posed by PPP/C member Juan Edghill about the condition of several hinterland roads.
Acknowledging that there was an issue with overweight trucks, he informed that the ministry was able to procure three automated scales, which will be deployed in several areas.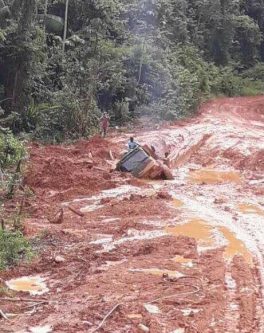 "The same roads the Honorable Member mentioned, a truck recently broke one. This month alone, three bridges on the Linden to Lethem road were broken by big trucks," he said. The automated scales are about to be deployed in the areas and the ministry would be imposing weight control, he added.
According to the minister, in the 2017 budget, the sum of $2.3 billion was allocated to roads and of that sum 83% has already been committed in contracts in several regions, including Region One (Barima/Waini) and Region Seven (Cuyuni/Mazaruni).
For years, truckers plying the interior roads have been complaining about their deplorable state. Last month, the Guyana Gold Diamond Miners Association, in a full page ad in this newspaper, had called on the government to enforce the established road users' agreement which stipulates the right restrictions for trucks and other vehicles transporting fuel and other supplies at key points, such as Bartica and Mackenzie.
"…Some trucking services are damaging the roads in the interior that have to be used by miners. Some of these roads are so bad that they are seriously affecting the operations of many of our miners," the association said.
According to the agreement, users shall be liable for damage to government's property caused by the negligent use of the roadways by their employees and/or agents.
Earlier this year, the ministry had said that government would crack down on overloaded mining trucks on interior roads.
Around the Web