More than 350 small businesses have been established under the Hinterland Employment Youth Service (HEYS), as the second phase of the programme comes to an end, according to the Ministry of Indigenous Peoples Affairs.
It was also recognized that despite challenges in terms of remoteness of some of the villages, the youth were able to demonstrate that working together is a no-brainer since several of the groups established were able to successfully execute projects
Among the businesses established were several grocery shops, poultry production, pig and small ruminants' production, boutiques, internet café, furniture manufacturing and eco-tourism destinations.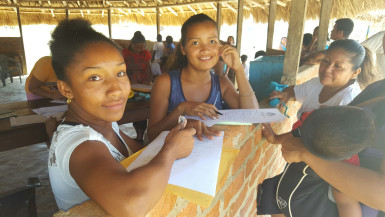 Responding to what is considered a "laudable achievement," Minister within the Ministry of Indigenous Peoples Affairs Valerie Garrido-Lowe, who has direct responsibility for youth development, said, "I am very proud that the indigenous youth grasped the opportunity to actually establish businesses within their communities. This, of course, was due to the fact that the BYOB [Be Your Own Boss] training was part of the programme; hence, youth were able to identify business opportunities that can prove successful within their own villages. I have visited several villages and was amazed at the various businesses that were in operation, either in groups or individually."
With this aspect of the programme coming to an end, the minister said, "I wish them well and encourage them to focus, do not give up and do not be afraid to explore new business ideas, especially within the tourism industry."
As a spinoff of the HEYS programme, the Sun Dried Tomato Project, a sustainable, green economic initiative undertaken in Paramakatoi, Region Eight, which is unique to the hinterland, is expected to open its facility shortly but is currently creating employment for more than 50 farmers.
"Under the careful guidance of the Chief Coop Officer from the Ministry of Social Protection, a Farmers' Cooperative has been formed and their first harvest will be in August and more than 30 persons have already been trained in food/ agro processing by the Board of Industrial Training and are now eagerly awaiting their stint in the processing facility," Garrido-Lowe explained.
The flagship HEYS programme, which was rolled out a year ago, saw 1,872 youth from 112 indigenous villages across the ten administrative regions being given the opportunity to discover how they can operate in any environment, while learning several skills.
"The curriculum supported the intellectual growth of the nation's indigenous youth while also offering them an opportunity for moral development through the capacity building core curriculum. The programme ensured they channelled their energies to improving their personal development and was wholly positive since they were able to match and in most cases exceed the ambitious goals in identifying their strengths, interests, challenges, teamwork, building trust and more so allowing them to become financially independent," the statement said.
The second phase of the HEYS program is expected to be rolled out shortly in 100 villages in Regions One, Seven, Eight and Nine, it added.
Around the Web