Close to 300 prisoners were yesterday shuttled to the Mazaruni, New Amsterdam and Timehri prisons following the fiery uprising that gutted the Camp Street jail on Sunday evening, leaving one prison officer dead, six others injured and several prisoners on the run.
Pandemonium broke out on Sunday after some prisoners reportedly ambushed the guards on duty and set fire to the prison. Hundreds of prisoners were later evacuated from the facility and taken to the Lusignan Prison.
A statement from the Ministry of the Presidency yesterday said that the remainder of the prisoners will be housed at Lusignan Prison compound, "where temporary facilities are currently being installed byengineers from the Ministry of Public Infrastructure.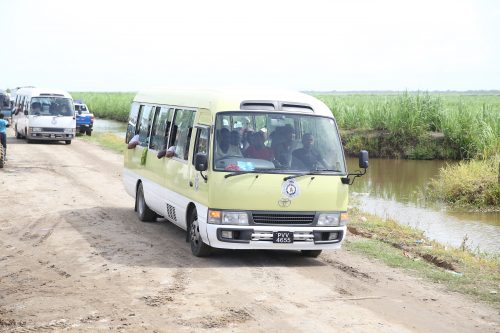 "By the end of today [Monday], close to 300 inmates should be safely relocated to various detention facilities across the country, including at Mazaruni, New Amsterdam and Timehri," the statement said.
Additionally, a budget of $18 million has been approved to begin construction of three holding shelters, washrooms and reinforced gates at the Lusignan Prison compound.
A heavy police presence was observed at the prison yesterday where scores of concerned family members turned up to ascertain whether their loved ones were safe and accounted for.
Later in the day, this newspaper observed that some of the family members were able to give the wardens food and bottles of water to give to the prisoners.
Around 12 pm, a single shot was also heard inside the walls of the prison and it was later reported that it was a warning shot.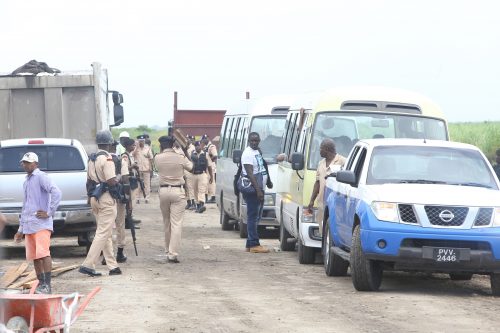 Meanwhile, following one of two national security meetings, Public Security Minister Khemraj Ramjattan said that the next 72 hours will be critical in terms of implementing the four-point emergency plan approved by government. (See story on Page 3)  "We should reduce the number at Lusignan from 1,000 to about 450 by virtue of what we are doing administratively and also by the process of transfers… So it is a very complex set of arrangements that we are putting in place to ensure the safety of all as well as the recapture of those who have escaped," Ramjattan said.
Earlier in the day, the Civil Defence Commission had sent supplies to the prison including bottled water, mattresses and blankets.
Around the Web