Taxi driver Matthew Shivtahal, who says he was abducted by four of the men who broke out of the Camp Street jail on Sunday, yesterday credited his one-year-old son as the reason why the men spared his life.
Speaking to Stabroek News from his home, Shivtahal, 22, who had bruises about his body and swollen feet after what he related to be almost a day-long walk, said that he did not have words to explain how it felt to be alive or to describe what he had gone through.
"It is [an] overwhelming joy to be alive. Honestly to go through what I went through and come out alive is just God grace," he said in a soft tone of voice.
Shivtahal had been reported missing on Sunday afternoon after he was reportedly taken hostage in his car at gunpoint on Camp Street by escapees, whom he said used him to flee the scene. His car, PKK 4103, was found abandoned later the same day at North Ruimveldt, while he turned up alive at the Vigilance Police Station around 10 pm on Monday.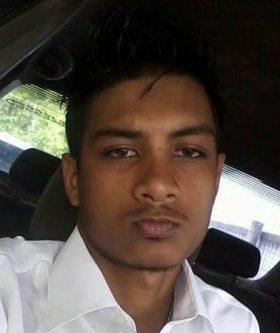 Shivtahal's common-law wife, Rovanie Kharmattie, had previously told this newspaper that he had left home to make his way to Industry, East Coast Demerara, to pick up some family members on Sunday afternoon.
Kharmattie had said that it was around 5.30 pm that she received a call from someone who informed her that four men had abducted her husband with his car.
Shivtahal yesterday said that after he picked up a female family member and children at Industry, he was driving on Camp Street when he heard what appeared to be gunshots.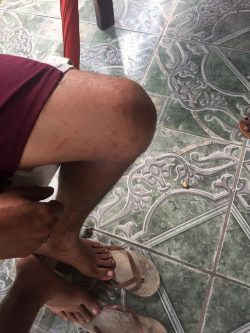 "Next thing you know, they got gun to meh head," he said, while noting that the others were ordered out of the car.
"They take out them, push me back inside the car," the man added before saying that they forced him to drive him to North Ruimveldt, where they abandoned the car and went into the backlands.
"They keep going down south, crossing a lot of trenches, going down 'til to the seven doors sluice in Land of Canaan, East Bank Demerara," he explained.
Once there, he said, they had reached a point where they had to go over a trench. "I tell them I can't swim and they said instead I got fuh slow them down is best they kill me and done," the man recounted.
Let go
He said while the men wanted to kill him, he pleaded for his life by telling them that he has a one-year-old child. He said they set him free afterward. "They say before I slow them down they will kill me but I beg them and say that I have a lil child and I won't want he grow up without a father and they say because of that they will let me go," he explained.
When asked which one of the men told him that they would spare him because of his child, Shivtahal identified "the Rasta man," which was in reference to the dreadlocked Mark Royden Williams.
The man said it was around midnight on Sunday when the prisoners showed him how to get out and he noted that it involved crossing several swamps and bridges. "Them man show me a way where to go out. I cross over like four swamp, go over a set of bridges and cut up me foot till last night [Monday night] 10 o'clock I come out. Since 12 Sunday night I deh walking," he added.
Shivtahal related that although fearful, he followed the directions given to him and walked until he saw "land". He went on to explain that he was seeing light as he continued walking. He added that for the last four hours of his journey, he saw light but he felt like he was not getting any closer. "I seeing light but I feel like it ain't reaching, it's like a joy to find land," he said.
He eventually found himself at Annandale on the East Coast of Demerara. "When I come out of Annandale, there was a shop straight across the road. I went in there, asked them for a phone call and they ask me why I want a phone call and I tell them I is the guy that get kidnap and there was a policeman inside there—he was going home at the same time—and he said come let me drop you to the station," he recalled.
At that time, he was covered in mud.
There were visible scratches about Shivtahal's hands and feet and his back had some spots which he said were as a result of stings he got from bees.
Shivtahal was unable to say who was the leader of the escaped men. He did say that two of the four men had "small guns." "It look like 9mm," he said. The men, he added, also had cellphones, which they used to make calls. "They didn't allow me to hear what they did talking," he said.
At no time, he said, did they talk about the breakout from the Camp Street prison. However, he recalled "when we were walking down, they see the fire because it was so big and they say look it turn big."
He added, "They were talking stuff but they didn't wanted me to hear. They were keeping everything on the low."
Shivtahal related that he learned of what transpired when he went to the Vigilance Police Station. "When I came back, I heard they had shooting out at the jail and these men escape," he said.
Shivtahal said after he was taken to the station, he was given a meal and taken to a hospital, where he was treated and then discharged.
Stabroek News was told that Shivtahal's account of what transpired is similar to the one he gave to the police. He was detained on Monday evening and later released. However, he is required to report to the police as they continue their investigation.
Around the Web