President David Granger yesterday said that his administration does not intend to rebuild a full scale prison facility at the site of the former Georgetown Prison on Camp Street, the Ministry of the Presidency said last evening.
President Granger's comment came when he visited the site of the former prison, which was destroyed following fires set by prisoners on Sunday during an uprising, which resulted in one prison officer being killed, several others being injured and nine prisoners escaping. One escapee has since been recaptured.
According to a Ministry of the Presidency statement, Granger said that while there is expected to be some facility at that location, the government intends to move away from having its main correctional facility in the centre of Georgetown. "We will have to go back to the drawing board to determine whether it is appropriate to have at the centre of the city, a facility like this… We are not going to have the same type of facility here again; that much I can say at present. The devastation here is almost total and we don't have intention of rebuilding it as it was before," he was quoted as saying. He also said that all efforts would be made to ensure that the prison system is secure and not susceptible to the cycle of disturbances that have been witnessed over the years.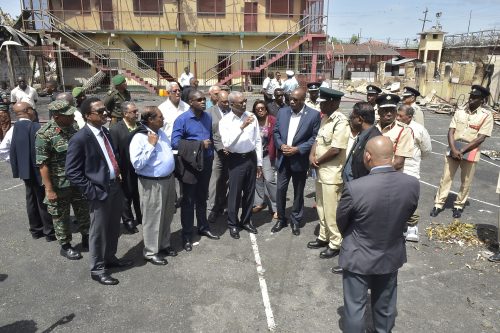 Further, the statement said the president noted that while the three major prisons in Guyana—Mazaruni, New Amsterdam and Georgetown, which were constructed by the British—might have been adequate over 100 years ago, that is no longer the case.
He, however, noted that while the administration has been making changes, it has been constrained by the limited resources that are available. The changes, according to the statement, include the implementation of the recommendations in the report of the Commission of Inquiry (CoI), which was launched into the March, 2016 Camp Street prison riots. "We were aware of the situation and we were acting on the recommendations of the CoI. We know that we had to strengthen Mazaruni; money had been provided and the Administration was actually in the process of expanding and improving those facilities when this occurred," the president said.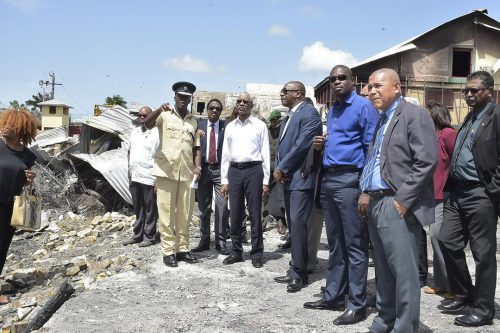 The Head of State was accompanied by Prime Minister Moses Nagamootoo and other Cabinet members in a tour of the site that was conducted by members of the security forces, including Director of Prisons Gladwin Samuels.
Stabroek News was not alerted to the official visit to the location and while some members of the state media were there, at least one private media house was also represented.
When questioned about the fact that this newspaper was not alerted to the impending visit, Director of Public Information (DPI) Imran Khan indicated that a spontaneous decision was made at Cabinet.
Around the Web