Relatives of inmates relocated to the Lusignan Prison after Sunday's Camp Street jail fire yesterday bemoaned what they said was the slothfulness of the prisons authority in providing them with information.
When Stabroek News visited the facility yesterday midday, scores of persons were seen standing in the blistering sun awaiting word from prison wardens on whether their relatives had been accounted for and a status update on their location.
Not long after, a female prison officer in the presence of several other prison officials started reading  aloud the names of prisoners who had been transferred to the Timehri, New Amsterdam and Mazaruni Prisons.
For those who did not hear the names of their relatives, the prison officials gave the assurance that those inmates continue to be accommodated at the Lusignan Prison.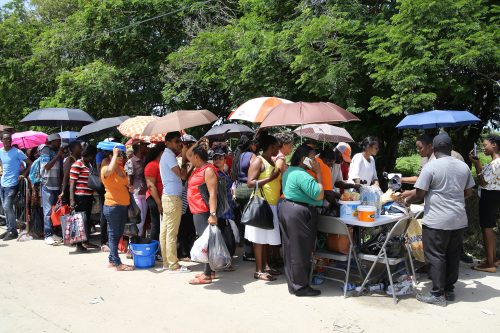 While this brought relief to some of the persons who had turned up at the penal facility, others aired their disapproval with the conditions under which their loved ones were being kept, this included concerns raised over the lack of proper accommodation and the provision of food.
Concerns about the provision of food for the prisoners intensified yesterday morning after a video allegedly recorded by an inmate appeared on Facebook and showed several of the men slaughtering a calf found in the pasture before roasting its meat and subsequently eating it.
One woman who had commented on the situation said she had been at the facility since 6 am and had been trying to ascertain whether her son was there and if he was given anything to eat.
"My son is kinda sick and he in there but I don't know if he got food to eat or anything…I out here since early this morning trying to find out information but they moving really slow…I really just want to know whether he's okay and if he got anything to eat in there," the woman related.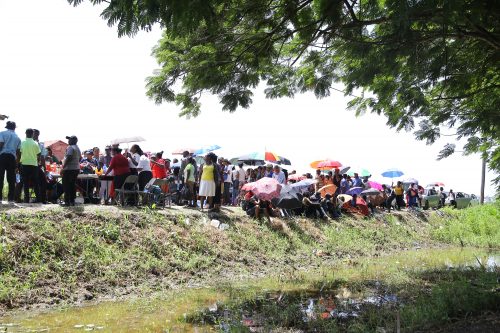 "They got them men in there on the wet and muddy pasture with nothing to eat or no water to drink and we out here with food for them but this process taking long and some of us ain't even know what going on," another woman added.
Those who had confirmed that their relatives were being housed at the Lusignan facility and had wanted to hand over food supplies and/or clothing, were made to join a line in order to have their food items searched before they were deemed acceptable to take into the prisoners.
Cases
Meanwhile, Stabroek News understands that in keeping with efforts to reduce the prison population in the wake of Sunday's massive fire at the Camp Street prison, magistrates continued to hear cases at the Cecil Kilkenny Prison Officers' Training School which is located a short distance away from the Lusignan Prison.
Based on information received, a total of 55 inmates who were held at the Camp Street prison prior to Sunday's blaze, have been released.
Stabroek News, during its visit to the facility yesterday witnessed a female prison warden, reading from a list,  the names of 30-plus prisoners who she said had their cases "discharged" and were free to go.
This newspaper understands that those eligible for bail included persons remanded on charges of embezzlement; obtaining false documents; uttering false information; threatening language; larceny; fraud; perjury; damage to property; smoking illegal substances or in possession of improvised smoking utensils; being in possession of cannabis below 50g; possession of cocaine below 25g and dangerous driving.
In addition to this, there was also a review of bail for persons who were charged with possession of cannabis from 51g to 1 kilogram and possession of cocaine 26g to 1 kilogram. It was noted however, that conditions will be applied to bail granted to inmates who are charged with unlawful wounding and carnal knowledge.
Meanwhile, eligibility for reduced sentences was limited to those prisoners who only had a few months left on their jail sentences. .
On Monday, Stabroek News reported that an estimated 300 prisoners were expected to be transported from the Lusignan Prison to the Mazaruni, New Amsterdam and Timehri prisons.
Several more were expected to be relocated yesterday.
Around the Web