Guyana Water Incorporated (GWI) has analysed the current water supply of the interior regions of Guyana, with a view to bettering it.
Managing Director of GWI, Dr. Richard Van-West Charles made a pledge to work with the Regional Administration and Village Councils to make this commitment a reality, according to a GWI press release. Dr. Charles was at the time delivering the feature address at the Region One Regional Toshaos and CDC Chairpersons Conference 2017 in Mabaruma, Region One on Monday.
"Let's work together to ensure the water available in (those) schools is potable," the GWI head reiterated, whilst noting that there are 77 schools, 21 health centres and four hospitals in Region One.
"All of our health centres must have access to water of World Health Organisation standards. So, the Ministry of Public Health, the Regional Council, Toshaos, Community Development Councils and GWI have to push to ensure high quality water," the managing director was further quoted in the GWI bulletin as saying. Village leaders were also urged to be cognizant of how their communities dispose of faecal waste and their use of mercury, both of which can cause contamination of the waterways.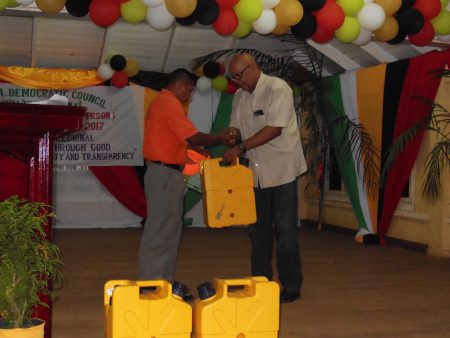 The improvement of the water supply system at Mabaruma includes the installations of a new reservoir, new transmission lines from Hosororo Falls and a new pumping station, the press release said. These works are expected to be completed by the end of July, 2017 and will result in an improved level of service to the community.
According to the media release, GWI is preparing a strategic plan that seeks to identify areas without access to quality water, with the aim of reducing water-borne diseases. New contracts have been awarded for the drilling of a new well at Oronoque and the undertaking of rehabilitation works at Port Kaituma. Wells will also be drilled at Yarakita, Koko, Koberimo and Kamwatta to provide a reliable water supply for more than 1700 persons for the first time.
Life Saver Jerry Can filters are being distributed to villages whose main source of water is rain, creek and river, and which have had reports of water-borne diseases, the bulletin said. These villages include Barima, Koriabo, Blackwater, Blackwater Savannah, Hobodia, Hotiquai, Imbotero, Red Hill, Three Brothers, Smith Creek, Aruka Mouth, St. Dominics, Lower Kaituma and Aruau.
Around the Web