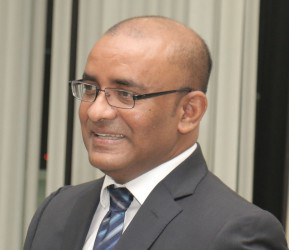 Following the Camp Street Prison fire and breakout on Sunday, Leader of the Opposition, Bharrat Jagdeo has called on Minister of Public Security, Khemraj Ramjattan to resign.
During a press conference at his Church Street office yesterday, he lamented that Ramjattan has to take responsibility for what is going on.
"He has to take responsibility just like in the past when they used to call on PPP ministers, when there was a problem… to resign."
Jagdeo said he has "seen lots of public calls for Ramjattan to resign.
Maybe he should consider it [resigning] or [President David] Granger should consider firing him at this point in time."
He said too: "But had it been only Ramjattan that exhibited these traits of incompetence alone, then we could have confined the call to Ramjattan, but it is the entire government…"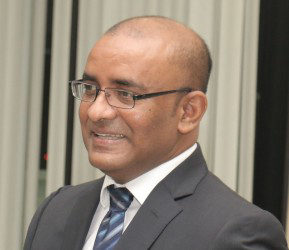 He recalled that after the last prison riot, he spoke about the "concept of moral hazard at a press conference," noting that when prisoners set a fire and get the "top level in the executive to go and meet with them, then we are crossing a threshold in this country."
He said the prisoners see the setting of another fire as a way of getting early release and to have the government running to put emergency measures in place.
Jagdeo warned that "we have to be extremely cautious about our approach [with the release of prisoners] and not sow the seed for another crisis in the future."
He is concerned about a lot of issues but said "right now the priority is for the safety of the people of this country and there should be a largescale manhunt to recapture those who have escaped.
That should be the top priority of the government and to ensure that they secure the prisoners… to ensure that we don't have an escalation of this problem."
He added that "this political opposition would not portray the escapees as freedom fighters, as they [government when it was in opposition] did when we had an escape in the prison in the early 2000."
Jagdeo recalled that after the 2002 jailbreak the PPP had implemented measures to avoid a recurrence, such as contracting loans to deal with criminal justice reform, which still has an impact now.
He also reminded that a plan which was crafted had recommended that there should be more officers in the force and more training.
Around the Web