Millions of dollars were recently spent by the Guyana Prison Service to upgrade the sports bar and recreational centre which was set on fire on Sunday night by prisoners.
The prisoners had been moved to the facility at the south west corner of Camp and Bent streets, on Sunday evening after being rescued from the fiery compound of the Camp Street penitentiary.
Director of Prisons, Gladwyn Samuels said that less than a month ago rehabilitation works on the prison officers' sports bar had been completed.
He noted that the money used for the upgrading of the facility had been generated through fundraising events and from the officers' resources. He explained that the renovated building was fully equipped with air conditioning units to maximize the comfort of officers.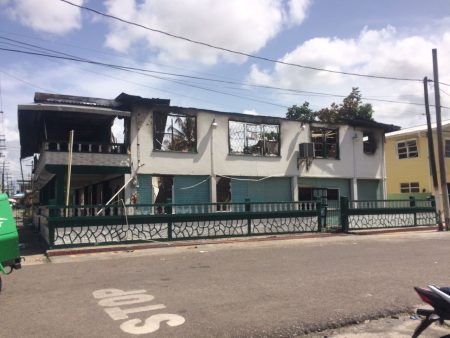 The sports bar and recreational centre, Samuels said was used by his staff "to chill from this city jungle."
It is believed that fire was set to the building by the prisoners in a bid to gain their freedom. However, the plan was not successful since members of the joint services fired a warning shot in the air, as the prisoners attempted to flee via the veranda.
The members of the joint services then proceeded to safely evacuate the prisoners from the burning building, and place them under guard whilst they sat on Camp Street, where they remained until they were transported to the Lusignan penitentiary.
The prison officers sports bar and recreational facility went up in flames sometime around 6.30 pm on Sunday.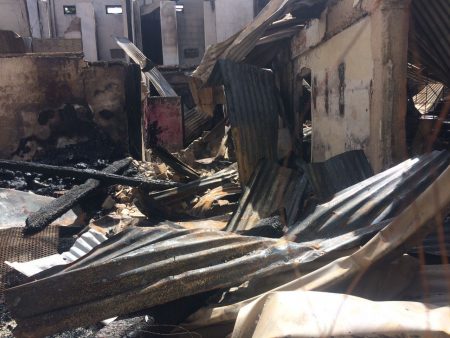 Stabroek News had previously reported that the prisoners had continued their riotous behaviour in the sports bar, and several of them broke into the bar, opened bottles of alcohol, lit their shirts and used them to set the building on fire.
Thick smoke was seen emanating from the roof of the sports club. Some prisoners also looted cigarettes and proceeded to start smoking.
The fire grew rapidly, engulfing the building, as the fire service tried in vain to extinguish the blaze. They were challenged as the fire in the jail compound was raging out of control. Scores of onlookers who had gathered, started screaming and running, when they realised that the sports bar was also on fire.
The fire was however contained, but nevertheless, the building was completely gutted. The building immediately south of the sports bar, which served as an administrative facility for the prison was scorched.
Around the Web