Prison authorities have confirmed that the number of escapees from Sunday's Camp Street Prison breakout is six, according to Public Security Minister Khemraj Ramjattan, who yesterday also clarified that a total of 91 inmates—not 300 as earlier reported—have been released
Ramjattan made the disclosures while also announcing plans to today relocate over 500 inmates who continue to be held in a pasture outside of the Lusignan Prison to another walled open area nearby. He said also that two areas are being prepared at the Camp Street Prison site to house them in the long term.
Ramjattan, speaking during a media briefing at his Brickdam office, clarified that 463 of the over 1,000 displaced prisoners formerly housed at the Camp Street Prison have either been relocated to other prisons, granted early releases or released on bail. The others, he said, remain at the Lusignan site, close to where a location outfitted with the necessary amenities is being prepared.
Stabroek News reported in its Thursday edition that Ramjattan had indicated that around 300 inmates had been released. In total, 91 persons have been released and their names will be made public, he said yesterday.

On Sunday afternoon, fires were set to the various sections of the Camp Street prison and four prisoners, identified as Bartica massacre convict Mark Royden Williams and murder accused Stafrei Alexander, Uree Varswyk and Desmond James, managed to escape. Williams, Alexander and Varswyk are believed to be the main orchestrators of the breakout. At some point, Cobena Stephens, also known as 'OJ,' and accused Trinidadian drug trafficker, Cornelius Thomas, also made good their escape. During the breakout, prison officer Odinga Wickham was fatally shot, while five of his colleagues were wounded.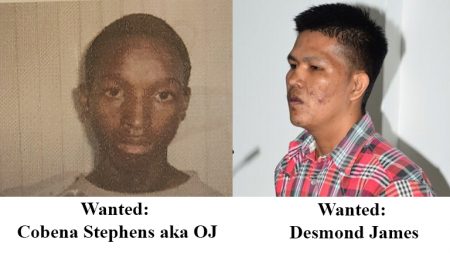 Ramjattan, who was accompanied by Prisons Director (ag) Gladwyn Samuels and Police Commissioner Seelall Persaud, told reporters that records were burned during the fire and this created some challenges for authorities. However, he added that they were able to subsequently confirm that six persons had escaped. Samuels would later reveal that a large amount of records were saved, while the warrants, which contain prisoner information and which were stored separately, were retrieved. This is what assisted in the identification of the six. The police and the courts are also in possession of records of those who were incarcerated at the jail.
Two days prior, authorities had given the number of escapees as eight. Prior to that, it was said to be five. Police had issued a wanted bulletin for one purported escapee but recalled it after ascertaining that the prisoner was in custody.
The minister said that they have since been able to account for two other prisoners, leaving the number of escapees at six.
Verified
Meanwhile, of the over 1,000 Camp Street inmates, it has been verified that 83 prisoners were sent to the Mazaruni Prison; 90 to New Amsterdam Prison; 48 to the Timehri Prison and 151 to the Lusignan Prison. Additionally, he said 57 persons scheduled to be released by the first week in August were released by him for good conduct. He said that magistrates have also granted self-bail to 26 others, while eight have posted bail, which had been reduced.
The remaining 500 plus inmates are being housed in a walled open field adjacent to the Lusignan Prison complex. Ramjattan said that currently another walled area, with sheds with roofs and washroom facilities, is being prepared for them by the Ministry of Public Infrastructure and contractors.
The relocation to this new area was expected to happen within 24 hours. "Prisoners, they have certain rights, we have to keep them in certain conditions and those who have been critical… please, we have our obligations in accordance to international protocols and national standards and we are gonna ensure that the conditions are met," Ramjattan stressed.
He said that it is hoped that these prisoners can be moved back to Camp Street once the debris has been removed and a brick prison there is rehabilitated and another facility, called the "cage," is prepared. The brick prison can accommodate about 250 prisoners while the cage can hold another 100, he noted.
An administrative centre has to be built and repairs also have to be done to the kitchen, which was badly burnt. Engineers and the fire service officials have determined that the outer wall of the Camp Street complex remains intact.
Fights
Meanwhile, it was also revealed that a few minor fights have erupted among the displaced prisoners and one of them, who it is believed was trying to escape, was shot and injured.
Samuels informed that at the walled area at Lusignan, there have been reports of fights among prisoners but nothing serious. All those that required medical attention, he said, were treated on site.
He said that the most serious incident was the shooting of a prisoner in the hand after he was observed at the top of the fence. The guard, he said, believed that the prisoner was attempting to escape and based on the Standard Operating Procedures that was the appropriate time to engage.
It was noted that security officials are also making valiant efforts to detect the improvised weapons some of the prisoners still have in their possession.
"…They are burning some of the improvised weapons they have in their possession, so it is difficult for us to conduct those searches in an adequate way because of the resistance we are getting from them and I am quite sure it will not be a sensible thing to provoke the situation," he said, before adding that searches will be conducted at the appropriate time.
Around the Web