Minister of Public Security Khemraj Ramjattan yesterday said that plans are on stream to expand the Mazaruni Prison, in keeping with one of the recommendations coming out of the Commission of Inquiry (CoI) into last year's Camp Street prison fire, which left 17 inmates dead.
He said that $276 million has already been allocated in the first phase of construction and more funds will be allocated in the 2018 budget.
"So, it is not as if we just sat back and did nothing. A lot was being done… a lot of money is needed to ensure prisoners are housed in safe and secure locations," Ramjattan said during a press conference held at his office.
On Sunday night, he had said that about $300M was allocated for the construction of administrative blocks. However, he retracted this claim yesterday, explaining that in addition to the sums for the construction, $176M was allocated for the construction of administrative buildings.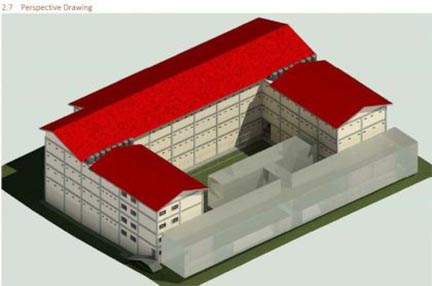 "We also made arrangements for a set of monies to start the expansion of Mazaruni and this budget 2017 …we allocated, I think, approximately $300 million to start the administrative staff buildings because we realised that once you start having more prisons built there, you will also have to have accommodation for staff as was recommended too and we had started with that," he had said hours after prisoners set fire to the Camp Street Prison and wounded several prison officers, one of whom died.
At yesterday's press conference, Ramjattan said that a lot has been done since last year's CoI.
He said that Vikab Engineering Consultants, a Trinidad-based company, has completed the design for a new prison at Mazaruni and this had been accepted by himself and the president in June this year.
"It is gonna be costly but we wanted an area to remove the overpopulation of the more serious prisoners to a safe place in Mazaruni and that has started," he said.
He said that $276M was allocated for the first phase of construction, which will cover the concrete structure and the foundation. Twelve houses will also be built to accommodate prison officers, who will be needed to control the increased prison population, he said. In the 2018 budget, he added, more money will be allocated because government wants a four-storey building.
It has been decided that the new facility will have a Board of Governors. The Board, he said, will be directing the management and administrative staff. It will also look at the recruitment of new prison staff, the salary scales and training.
He assured that in another six weeks, tenders will be put out for contractors to do the construction. The government is looking for four. "This will be a major, major piece of construction," he said, before adding that the modernisation of the prison system was part of a consultancy awarded to the International Management Consultants and this was delivered.
He revealed that Professor Duke Pollard has been tasked with putting together amendments to the Prison Act to accommodate the modernisation of the Guyana Prison Service. This should be completed by month end, he said.
Around the Web