Minister of Public Security Khemraj Ramjattan is hopeful that the risk posed by the overcrowding of prisons across the country will serve as a catalyst for the swift amendment of the laws so that possession of small amounts of marijuana will not carry lengthy prison sentences.
"Well, there are some problems in relation to when we should bring that up. Not whether it should not come up, but when, and I hope all of these circumstances [are] going [to] push it," Ramjattan said when asked what is causing the delay in changing the laws.
Under Guyana's Narcotic Drugs and Psychotropic Substances (Control) Act, possession of 15 grammes and over of cannabis attracts a charge of possession of narcotics for the purpose of trafficking. Any person summarily convicted of that offence is liable to a sentence of at least three years but no more than five years in prison and a fine of at least $30,000 or the equivalent of three times the street value of the drug.
Ramjattan was asked to what extent last Sunday's fire and breakout at the Camp Street jail justified the need for an almost urgent amendment to the law with respect to small amounts of marijuana.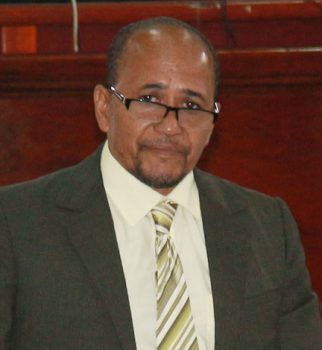 "I think it is required that we make sure that there are non-custodial penalties for those offences. The law has already been laid in Parliament by Mr. Carrington and we have to go and now get it passed. I hope that we are going to get it passed. I have lobbied the cause of Mr. Carrington that we must get it passed," he said.
Ramjattan was referring to the amendment tabled by fellow APNU+AFC Member Michael Carrington since 2015. Carrington's proposed amendment, which was listed under private members' business on the Order Paper, seeks to soften penalties for possession of marijuana for personal use.
'Blessing in disguise'
Carrington told Stabroek News that as early as next week, he will press to have the bill moved up on the order paper so that it can at least be sent to a select committee before the parliamentary recess in August.
"I think I will get a go ahead now to go ahead with it. Around next week, I will be pushing [for] it to be moved up on the order paper. I think it may go to select committee because it is not just that section but [a] couple sections of the Narcotics Act that need to be amended," he said.
The APNU+AFC Member of Parliament said that the amendment bill has been delayed for too long and he thinks the overcrowding at the Camp Street jail has caused people to realise that the practice of imprisoning persons for possession of small amounts of marijuana needs to be urgently examined.
He believes that APNU+AFC coalition members will support the bill.
"I think it [the prison fire] is a blessing in disguise, to open people's eyes [to the fact] that we should not jail our people for just a little bit of cannabis," he stated.  "I think the coalition will support the bill. I personally think at this stage, they will. According to President Granger's pronouncement and so, I think he is on the right track. Sometimes you have to get some wake up calls to make people realise… because every time you put a young person in jail, especially for cannabis, when they come out, they are a [more] qualified criminal than before they go [in]. So why send these young people to jail for a smoke? I feel the persons that have to go are the traffickers," he added.
Carrington argued that while there is justification for the imprisonment of persons who commit violent and traumatising acts on others, there is no evidence here that casual cannabis smokers are responsible.
"I personally feel that you should not be jailing persons for a smoke. Any harm is to themselves not to others… We have too many, especially young people, going to jail for a smoke.
We don't jail people for rum drinking, which has created more problems than cannabis actually creates. If you look at what rum creates here in Guyana, you would see," he reasoned.
Carrington added that the country will have to look at the overall sentencing policies and implement alternative programmes for persons found smoking, since he does not believe the prison system focuses on the reform of inmates. He took issue with young people being sent to jail for petty crimes. "They never get a chance to [be] sent to rehab or get any counselling or anything. No community work, nothing at all. Some other person does a wrong too and the magistrate just sends them straight to jail. I have a problem with that.
You should examine the individual. Just as something happens, we send the youngsters to jail and it creates overcrowding of the prison," he said.
"In many cases, you need to look at the sentencing structure. Everything too is remand, remand, remand. If you put persons on a high fine, too, and they can't pay, then obviously they have to sit down in the jail for a long time, sometimes for a petty crime.
We have to find a better way to deal with petty crimes; let them pay a fine or do community work, those types of things. I can understand jailing people for committing a crime but a small bit of cannabis isn't creating harm to another individual, unless that person is right up [near to] the person smoking," he added.
'Unjust laws'
Carrington tabled the bill after public outcry over the sentencing in November of 2014 of football coach Vibert Butts to three years imprisonment for possession of 46 grammes of cannabis, which he had said was for his private use. Butts' sentence was appealed and he was subsequently granted bail.
Members of the Rastafarian community had staged a demonstration outside the Attorney General's office to protest against the "unjust laws" regarding the possession of marijuana, which they want decriminalised. They were subsequently invited to and held a meeting with AG Basil Williams, who had told them that the issue would be raised at Cabinet.
In January of last year, Ramjattan had argued that the absence of a clear sentencing policy is a problem.
When asked for his views on the calls, including by the Rastafarian community, for repeal of the law governing the possession of cannabis, Ramjattan had stated that all the laws, and especially the penalties, need to be reviewed.
A clear sentencing policy, he had further said, needed to be worked out by the Chancellor and other members of the judiciary. An example, he said, would be to limit the penalty to a one-year maximum sentence.
He added that public opprobrium over the issue was due to the absence of clear sentencing guidelines. According to Ramjattan, magistrates and judges need to be conscious of public opinion and it is also important that the circumstances of a case be understood.
He had said too that the entire debate was more of a sentencing matter than a need for the legislature to change the law.
He holds firm to his views and said that he also believes that all partners of the APNU+AFC coalition will support the bill.
Around the Web