The state yesterday closed its case against Aniki Jones, who is accused of murdering Carl Garnette on December 15, 2013, at Lot 8 Clifford Street, Lamaha Springs, Joint Services Housing Scheme, Georgetown.
Before the close of the case, the prosecution's final witness, Pathologist Dr. Nehaul Singh, testified that Garnette died of shock and hemorrhage, due to multiple stab wounds.
The doctor said that the examination of the body had revealed six incised wounds.
Of those wounds, the court heard that the deceased had sustained a stab to his heart.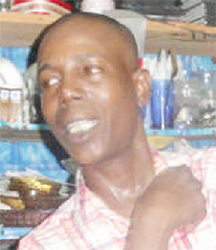 The case will continue next Tuesday before Justice Nareshwar Harnanan and a 12-member mixed jury at the High Court in Georgetown.
Jones, in a caution statement, which has been tendered and admitted in evidence, told police that it was Garnette who attacked and chopped him to the head with a cutlass, thereafter, resulting in a fight between them.
Jones has pleaded not guilty to the capital indictment.
The accused is represented by attorneys Mark Conway and Keoma Griffith, while the state's case is being presented by Prosecutor Shawnette Austin, in association with Siand Dhurjon and Lisa Cave.
Around the Web