Vice-Chancellor of the University of Guyana Professor Ivelaw Griffith has defended the decision taken to host an Investiture Ceremony for his appointment, while stating that it is a tradition at other institutions and an important part of the university's maturation.
He also denied reports that the ceremony would cost the institution as much as $10 million.
Investiture ceremonies are usually held within the first year of a chancellor assuming their new role, and serves to formally mark the appointment. Griffith was appointed in June, 2016.
"It's a normal practice in other universities. The idea is to give yourself a time to accomplish something, to be able to build relationships, and to share not only accomplishments of the first period but plans you plan going forward," Griffith told reporters yesterday.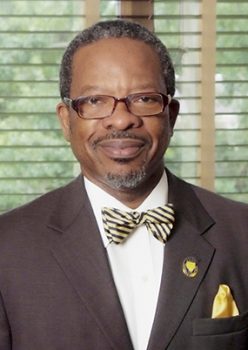 Asked whether he thought he has achieved enough since his appointment, he responded, "Not just I think, I know," while noting that all achievements of the university will be made available for review.
"Investiture has never been done for the University of Guyana. It is a normal practice at every university around the world… so the fact that we have not done it before doesn't mean that we should not come into the age of modernity. We're doing a number of things that have not been done before and it is for me an important part of the maturation of our university," he stated.
The Vice-Chancellor said that money for the ceremony would have come from a number of sources, while noting that the institution also has a responsibility to invest in its own affairs. Responding to a media report that the ceremony could cost in excess of $10 million, Griffith denounced the figure, and called out the integrity of the media report.
"One of the realities of so much of what we see in the media is that what's given there is not factual. I would ask them where they got that figure from… So it's no $10 million. I don't know the exact amount but I also know that whatever it is, we are judicious in how we spend," he said.
Registrar of the University Dr Nigel Gravesande, who is on the planning committee of the event, said that he could not provide an estimation of the cost at the time.
The University of Guyana will this month be hosting a Diaspora Engagement, which will invite Guyanese based overseas to return and explore giving back to the country. The Investiture Ceremony is scheduled for the final day of that event.
Around the Web