A Canadian-Guyanese author on Sunday launched a new book of poetry that gives voice to his distress at the spectre of racism.
Habeeb Alli's 'Red Coconut: Bridging the Racial Divide,' which is his eighteenth book, was launched at the Pegasus Hotel.
Speaking at the event, Alli explained that he chose the name Red Coconut because "I thought of coconut being pure and shared by all Guyanese [and] of course, many other tropics of the world."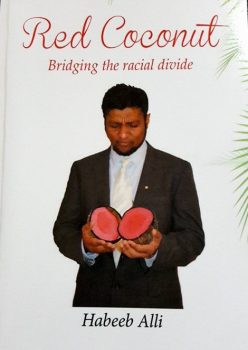 He added, "So coconut, having a hard shell and a soft jelly, it just depicts the human nature, that we can be hard on the outside and deep down inside, you're a teddy bear. We all want to be loved and cared for."
He said the red "symbolises the bleeding of violent racism and fractured relationships. We have done enough of that; tears of blood in the last century; the world wars, the racism" and billions of lives being lost in wars, for instance in Syria.
He read two poems from his book, 'Buxton Spice at 50' and 'Black Love in Protest,' for those in attendance at the launch.
Alli lived at Enmore and attended Queen's College before going off to study in India, where he obtained a Master's Degree in Islamic Theology and Arabic language. He also the holder of a diploma in journalism and is a part of the Guyanese-Canadian writers' Association.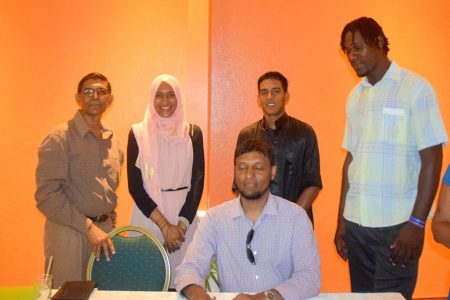 Now residing in Canada with his family, Alli said that in Guyana, many lives have been lost as a result of racism. He said too that "in Canada, we have had our fair share of under-the-carpet racism and discrimination to deal with in our lives."
In an invited comment, he told Stabroek News that he returned to Guyana to launch the book, "not to offer any panacea to our racial experiences but to provide a forum where our thoughts and ideas are freely shared."
The event was hosted by Guyanese writer Petamber Persaud, who said that Alli not only authored 18 books, but he has done so while engaging in numerous charitable activities as he has spearheaded a number of organisations and is still maintaining strong family links.
He also organises interfaith events and has hosted the One Love Gala for the past five years.  Persaud described Alli as being "passionate about creating safe social space and preaching peace and love, all which he does with great diplomacy."
Growing up in a household where his mother encouraged him and his siblings to read and exchange books, Alli said, sparked his interesting to write.
According to him, "Poetry is beyond prose… it is a signature of lyrics and it is the symbiosis of revelation and prose."
Three poets, Zaheer Zamaluddin, Salimah Hussain and Jamie Meyers, shared their talents at the launch. Alli expressed gratitude to them as well as to Sabrina Panday for organising the event and he also thanked the coordinators and sponsors.
Around the Web