Spain's Ambassador to Guyana Javier Carbajosa and its Secretary of State for International Cooperation and Latin America Fernando Garcia Casas on Thursday night visited the Ptolemy Reid Rehabilitation Centre, where they interacted with the children and were treated to a tour of the facility.
The visit to the Centre was the first item on the to-do list of the diplomats, who made the visit right after landing in the country.
"Our Honorary Consul, I asked him to look for an institution doing wonderful social care and social work and I believe we are deeply impressed from what we saw because it's a way of taking care of people who may be not be on the sunny side of life and they deserve the help and recognition.
And we were also deeply impressed to see one of the girls here is attending high school so for us it's learning, and for us it's also proof of sympathy, of solidarity and friendship with people of Guyana," Garcia Casas said.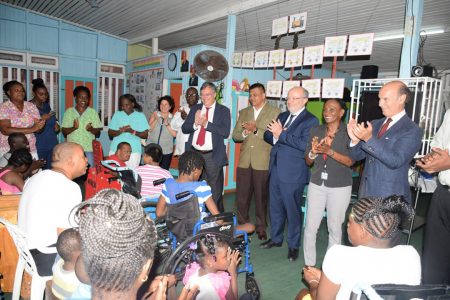 The Ambassador also expressed how impressed he was with the work of the staff at the Centre.
Carbajosa stated that although it is his first time in Guyana, it will certainly not be the last, as he indicated that Spain would be working to strike up relations in all spheres locally.
"I do intend to come here frequently and certainly it will not be the last time that I will be here with the children… Actually, this is the moment in which we have decided to give it a push, a serious push, from all points of view—political, economic and social—and that is why the Secretary of State is here too," Carbajosa remarked.
Around the Web