The Guyana Telephone and Telegraph Company (GTT) on Saturday rolled out its US$25 million 'Blaze' high speed internet at the Guyana National Stadium, Providence, calling it "the fastest internet [service] Guyana has ever seen."
Speaking at what it called the Blaze Expo, Chief Executive Officer of the telephone giant Justin Nedd said Guyanese had been asking for faster internet and GTT had been working to deliver on that request. He said the new internet service was "inspired by customers." 
According to Nedd, seven years ago GTT dropped fibre optic cables which paved the way for the realization of a high-speed internet service that is now comparable to what obtains in mega cities in North America and across the world.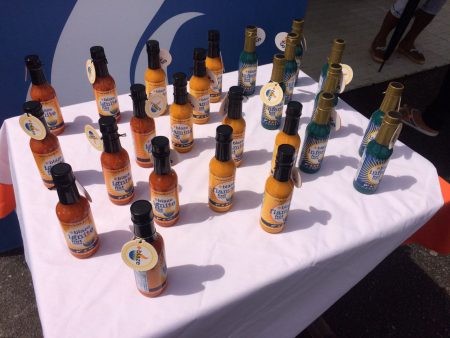 Asked why this service was not introduced immediately after the cable was dropped in the Atlantic, Nedd said, "It takes some time to really get to understand the market, get to understand the advancement in technology and all the external factors.
"This is real money. This is GTT investing in Guyana… We invest for the long term because if we look at things in a very short-term manner, I could charge everybody a million dollars per service but then I would be out of service because people just can't afford it," he said touching on the investment by his company.
He said that with every package a customer gets 20 complementary Internet Protocol Television (IPTV) channels and a Voice Over Internet Protocol (VOIP) phone. No rental is attached to the VOIP phone service, he said, "customers just pay for what they use."
According to Nedd, GTT had to sit down with its lawyers and discuss intellectual property laws before deciding that to provide IPTV channels on its network.
"We have all the clearance from our lawyers and I think we've got very good lawyers who ensure that I don't go and do rogue type stuff," Nedd said. However, he brushed off questions when asked if the company would be losing money with its introduction of VOIP phones. He stated that his company is investing in the future of the country.
The high speed internet service is currently being rolled out in selected areas on the East Coast, East Bank and West Bank Demerara.
On the East Coast the internet ready areas are Ogle, Courida Park, Goedverwagting, Atlantic Gardens, Happy Acres, Le Ressouvenir (north of public road) and Felicity (north of public road), while on the East Bank the areas are D'Aguiar's Park, Nandy Park, Peter's Hall, Providence, Republic Park, Republic Gardens, Eccles and Herstelling. La Grange, La Retraite, Bagotsville and Nismes are the areas listed for the service on the West Bank Demerara.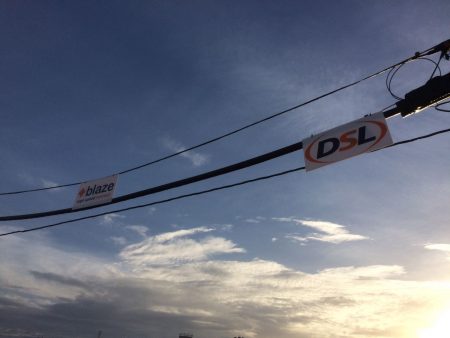 According to GTT Public Relations Officer Allison Parker, the selected villages were given the opportunity to benefit from the high speed service since they were only experiencing 1.5 megabytes per second on the Digital Subscriber Line (DSL) bandwidth, which is the slowest in the country. Stabroek News also learnt from customer service representatives that the company is targeting communities which cannot access DSL or telephone service.
The installation of the new internet service would be rolled out in phases throughout the country but no time frame was given for this.
The company currently offers three different speeds of internet on the Blaze network. The Ignite/Fibre 5 package offers up to five megabytes per second for $8,999; the Flaming package/Fibre 20 offers 20 megabytes per second for $10,999 and the Inferno/Fibre 50 package offers up to 50 megabytes per second at a cost of $14,999 monthly.
At present over 1,000 customers are accessing the service, Nedd said, and "We are receiving testimonials from real customers, not paid, that really say that they enjoy the quality of internet."
He added, "This is not something we are launching and now doing a trial. This is something that we at GTT have installed and tested." As prospective customers signed up for the service they received a complimentary bottle of pepper sauce representing the package they signed up for.
GTT Public Relations Officer Nadia DeAbreu explained to this publication that as they were working out their marketing strategies they came up with the idea of pepper sauce to signify the speed of the new service. "Our new internet service is blazing so we decided to go with something that would represent the quality of our internet and something that is Guyanese…"
De Abreu explained they worked with local agro-processing company Umami and created three different pepper sauces: red is ignite and lowest speed of internet on the fibre cable, yellow is flaming and a faster internet and blue is symbolic of the inferno and fastest service.
At the expo, GTT partnered with companies such as RadioShack, Starr Computer, Innosysgy, Payments.gy, Moviestar, Richards-Wilcox Garage Doors and CAME Automatic Gates, Ditec Automatic Gates and Doors, to showcase their service with the enhanced internet service.
Around the Web