Guyana's team participating in the first Global Robotics Championship for high school students in Washington DC was in first place yesterday after three rounds, Co-founder of STEMGuyana Karen Abrams said yesterday.
Abrams, who has been giving regular updates on the team's progress on her Facebook page, announced yesterday: "Team Guyana has moved into 1st place out of 160 countries, following the 3rd round in the World Robotics Championships for high school students taking place in the United States. Best wishes to the team and STEMGuyana. Let's go Guyana."
A release from STEMGuyana had stated that six players and three adult mentors travelled to the US to represent Guyana.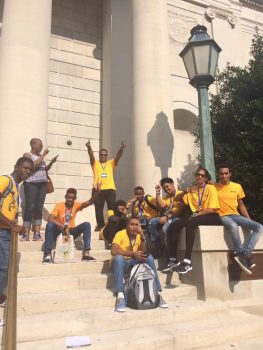 The students are: Vevekeanand Ramnarace, Ryan Benschop, Christopher Nelson, Anthony Frank, Arrianna Mahase and Sahief Poese. The mentors are Coach Ricky Chan; team manager Farnaz Baksh; and PR Specialist Horace Mosley.
According to that release, the team's travel was supported by the Ministry of Education which donated $2.5 million and the Ministry of Public Telecommunications which donated $500,000 while money for operational expenses was donated by diaspora members, the Office of the First Lady and several private corporate donors
Giving some insight on the competition, the release said it encourages cooperation by grouping teams in several different alliances made up of three countries in each of three rounds of competition.
It indicated that each team was expected to be given an opportunity to get to know and work closely with 6 other teams.
"Each team was challenged to build a robot which will gather [simulated] water particles, sort the contaminated from the clean water particles and then find a way to make the robot deposit those particles in specific locations. The robot also has to be programmed to pull itself up off the ground. Teams built their robots with no formal instruction, and limited experience using nuts, bolts, motors, sensors and other parts provided by Vex Robotics," the release had said.
Around the Web