An ongoing project aimed at testing new-born babies for Sickle Cell Anaemia (SCA), as part of the contribution by the Guyana Bank for Trade and Industry (GBTI) to the development of the local health sector, has seen the screening of some 3,200 new-born infants to date.
In a statement issued on Monday, the bank noted that it has partnered with two doctors—Dr Pheona Mohamed-Rambaran, Director of the Medical Laboratory, and Dr. Bibi Alladin-Karan, Paediatric Resident, both of whom are attached to the Georgetown Public Hospital Corporation (GPHC)—to facilitate a pilot project, called "New-Born Screening."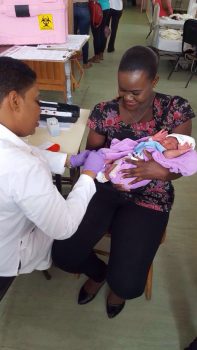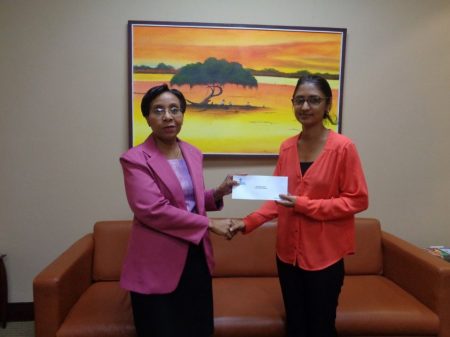 The project, which commenced on July, 1, 2016, will run up to September 30, 2017, and would have seen 3,200 new-born infants being tested for SCA and Congenital Hypothyroidism (CH) at the GPHC to date.
The statement further quoted Dr. Alladin-Karan as having said, "Babies born with the Sickle Cell trait are only expected to live to about the age of 25-30 years old if treatment is not administered, while those born with the trait of CH could potentially develop mental disorders, limb and joint impairments and other such disabilities that can affect them as they grow and develop."
It is for this reason that screening for these two diseases is necessary and should form a part of the routine tests that are carried out on babies when they are born, especially since an early detection of traits associated with the two could allow for an improved quality of life through treatment, the statement added.
Dr Alladin-Karan, in her explanation of the process, stated that once the mother's consent is given, samples are being taken at the GPHC and then sent to the Children's Hospital of Eastern Ontario's laboratory in Canada for the testing to be done. A sample only requires a prick of the baby's foot as just a small drop of blood is required.
She further noted that Guyana, Jamaica, Trinidad and Tobago and The Bahamas are among the first Caribbean countries to pilot a study of this nature.
Meanwhile, in acknowledging the role of the bank in the project, Dr Alladin-Karan explained that upon approaching GBTI, she was immediately granted funding as the bank took cognisance of the fact that a research project such as this one can be beneficial to all Guyanese. She added that it is because of the bank's support through the project that they have saved a number of babies' lives from SCA and CH.
"It is hoped that once the pilot project is completed that comprehensive sensitisation and awareness campaigns will be done along with an advocacy for sustainability of this project which would then see the implementation of same by the year 2018," the bank said in the statement, while adding that it also intends to forge ahead with this partnership so that in due course, the testing can be done locally.
Around the Web