Team STEMGuyana finished in 10th place after overcoming many hurdles in their battle against 164 other nations at the inaugural First Global Games, a robotics competition held in Washington, D.C, on Monday and Tuesday.
Under the theme "H2O Flow," the competition, which is modelled after the Olympics, tested the critical thinking, strategy, and ingenuity of the competitors, who were tasked to construct robots that would help solve the problem of access to clean water.
"In spite of a series of challenges, the amazing Team Guyana ended the First Global Robotics Tourney in 10th place out of 165 teams. Team Guyana with 4 months' experience performed an amazing feat. Guyana should surely be proud of her young people," Karen Abrams, co-founder of STEMGuyana, said of the team's performance last evening.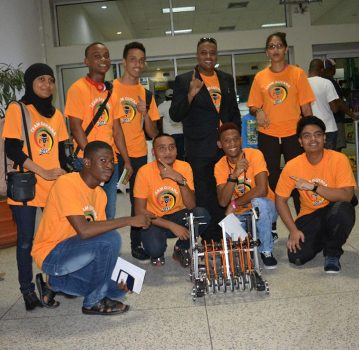 The competition, which was streamed live, required teams to form a series of three-country-alliances over six rounds of competition, a difficulty in itself given the language barriers that existed.
Guyana was represented by Ryan Benschop (team captain), Vevekeanand Ramnarace, Christopher Nelson, Anthony Frank, Arrianna Mahase and Sahief Poese. The mentors were Coach Ricky Chan; team manager Farnaz Baksh; and PR Specialist Horace Mosley.
They were required to build the robots using only items provided in a kit, which was supplied to the teams in March.
"We've been working on this robot for about three months; last month we met every day, sometimes designing, planning, building and practising all day and night," Benschop told this newspaper.
"So, it's truly amazing to put what we have created up against other countries' creations and to be performing as well as we have," he had said on day one of the competition.
The game saw the teams breaking up into two alliances—Hydro and Aqua. The playing field represented two villages separated by a river, which was contaminated. Blue balls represented water, while the orange represented contaminants. The challenge was to get as many water particles into a section designated as the reserve and to get the contaminated particles into a laboratory located at the top of a bridge. Scoring a water particle resulted in one point, while the orange carried four points each.
A total of 15 "coopertition" points were awarded to both teams if they managed to clear the river of all its contaminants. Five penalty points were awarded to the opposing alliance if teams scored contaminant particles in the reserve and 5 and 20 points, respectively, were awarded to the teams that parked their robots on the bridge or hung it on the climbing bar when the game ended.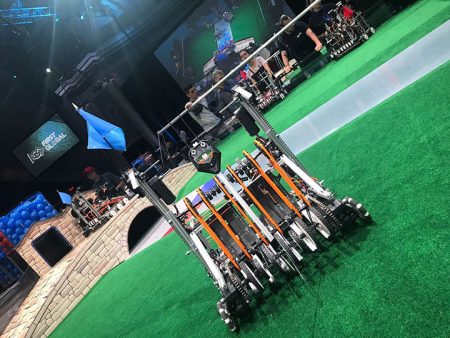 It was reported yesterday that Team Guyana had started off in 1st place following the first rounds of competition. According to the score sheet posted by First Global, though, they had lost grip of this position when round four began, as they were in second place with 324 points, with Team Europe leading by 15 points.
By round 5, however, Team Guyana had accumulated a total of 379 points and their position had dropped to 5th. They were led by Croatia (383 points), Israel (390 points), Poland (400 points) and Team Europe still held the first position (443 points).
Team Guyana's journey throughout the competition was not in the least a smooth one, as in the earlier leg of the competition the team had a connection issue with their robot that resulted in them losing nearly one minute of game-time.
When round 5 came, they were paired with Austria and Ivory Coast and were up against Kazakhstan, Tunisia and Venezuela, but difficulties reportedly experienced by both their teammates left them pulling the weight on their own.
"One of our alliance teammates, Ivory Coast, they weren't ready. We were helping them build their bot up to right before the match but unfortunately we didn't have enough time to complete it…," Benschop had said, also relating that Austria had experienced technical difficulty.
"Can you imagine the potential these guys have to change Guyana? They didn't even hesitate. From the time they heard that they were paired with this team, they came, they investigated the robot, they immediately made the decision to come over here and start helping to build… scores don't even matter when you see this. These guys hardly understand each other but they understand the language of working together," Abrams said in a video posted on Facebook.
"This makes it all worthwhile, when you see the real lessons that you're trying to teach, they get it. They get that it's about accomplishing a big goal, they get that they have to work together, they get that they have to work hard, they get that they have to make sacrifices, they get that they have to have the right attitude; they just get it," she added.
The team managed to only score 60 points in that round, while the other alliance scored 110.
In round 6, the final round, while paired with Nicaragua and Palestine, Team Guyana in that alliance was able to cop 95 points, while their opposing alliance finished with 113.
Team Europe managed to maintain their lead throughout the competition, and were the recipients of a gold medal for the First Global Grand Challenge award, with teams Poland and Armenia taking away silver and bronze, respectively. This award was presented to the teams that "scored the most points added cumulatively during each round of the competition" and represented the "highest scoring robots of the competition".
The First Global Challenge award, presented to the three teams that each received the most combined match points throughout the duration of the challenge, went to Finland (Gold), Team Singapore (Silver) and Team India (Bronze).
"Solving this global water issue will need much more than the best engineering minds of our era. It will require a whole new generation of tech savvy future STEM leaders who will demand a global response to the issue of water security. These students are doing much more than competing in a robotics game – they are learning that these challenges will only be overcome when people realize we are all on the same team, and that with technology, we can accomplish things we can only imagine by communicating, cooperating, and working together to apply technology as a tool for positive change in the world," First Global said on its website.
The next global robotics challenge will be held in Mexico next year.
Around the Web