The Ministry of Finance yesterday signed a US$17.5 ($3.7b) million line of credit agreement with the Exim Bank of India, which will be used to upgrade the Bartica, Suddie and the West Demerara Regional Hospitals.
Announced earlier this year, the line of credit had originally been assigned for the construction of a specialty hospital which this government had signalled it wasn't interested in pursuing.
Speaking at the signing of the agreement, Minister of Public Health, Volda Lawrence said that the money will be used to modernise the primary health care system in Guyana, which will assist in fulfilling the Ministry's mandate of enhancing the delivery of primary healthcare throughout the country, to all regions.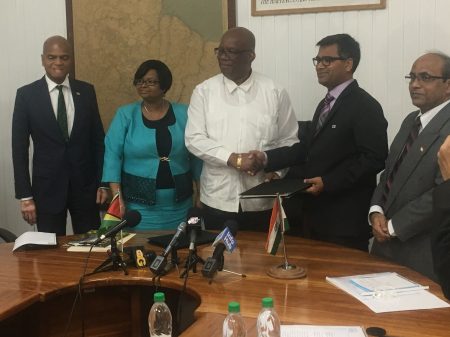 "It is my belief that this is the most important level of healthcare and it is incumbent on the health sector to interact with our people to ensure that we deliver comprehensive services including prevention, promotion and rehabilitation…," Lawrence said.
She also added that it is the ministry's intent to improve the services at the various health centres, clinics and other health facilities around the country since they play pivotal roles in the population's health. She said that the ministry's "health vision 2020" prioritises a working and comprehensive primary healthcare programme since they have recognised the impact of such a service on the health status of individuals.
"The Ministry wants to ensure that these services reach all of our communities and that we care adequately for their needs," she added.
Also speaking at the signing, Minister of Finance, Winston Jordan said that the financial assistance from the Government of India will be used to "upgrade and modernise" the three regional hospitals – Bartica, Suddie and West Demerara – and also construct new buildings.
He also explained that medical equipment will be procured to ensure that the new and renovated facilities are completely furnished. "When completed, residents of the immediate surrounding areas can expect to benefit from improved healthcare delivery and services," he said, while pointing out that the provision of quality healthcare remains a primary objective from the government and that an effective public health system is essential for providing care for the sick and for instituting measures to prevent the spread of diseases and to promote the general well-being of the citizenry.
Jordan also pointed out that the imminent upgrade of the three regional hospitals will also ease the burden on the Georgetown Public Hospital, since it has been noticed that persons from the hinterland regions often neglect their own health care services in their vicinity to travel to Georgetown because they have a perception that superior healthcare services are offered in the Capital City, as opposed to the other Regional Hospitals around the country.
He added that hopefully the upgraded facilities will help to remove the stigma from the various regional hospitals and result in patients being divided among the various hospitals around the country.
High Commissioner of India to Guyana V. Mahalingam also made brief remarks.
Around the Web