Businessman Andrif Gillard yesterday told a Commission of Inquiry (CoI) of how his neighbour allegedly offered him money to assassinate President David Granger and the subsequent runaround he was subject to before the police took a report from him.
Gillard, who operates a taxi service at Diamond, East Bank Demerara, testified that he had also declined an offer to kill the now dead Guyana Geology and Mines Commission (GGMC) engineer Trevor Abrams.
The CoI, which is headed by now retired Assistant Commissioner of Police Paul Slowe and which will investigate the alleged assassination plot and the police force's response, held a public hearing yesterday at the Department of Public Service on Waterloo Street.
Gillard spent most of his almost two hours on the stand giving his evidence-in-chief but it was the subsequent questions from Slowe that provided some clarity.
Gillard explained that it was his neighbour, Nizam Khan, who approached him in 2015 to kill the president. At the time, he said, he was alone at his business. "That was about 8 o' clock de night, so nobody was there. I was dispatching, so I didn't have much time to spend with him or no colleague around or anything," he said.
Between the time when the conversation took place in 2015 and March 29, 2017, he never made a formal report about the plot but added that he would blurt it out every time police arrested him.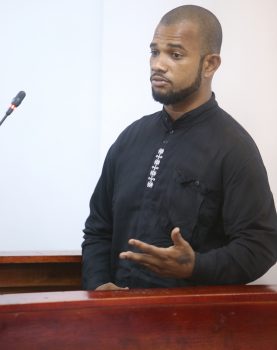 He charged that Khan and his relatives would make allegations against him, resulting in the police detaining him.
"I tell them because I turn down the offer to kill Granger, this man [Khan] locking me up. The man [police] said you and he gotta try with duh. I told the policemen at Grove…If you ask prisoners who know when I get lock up …I does deh kicking down the lock up doors sometime because [of] frustration," he said, while stressing that he was often ridiculed because of his regular detention by police.
Gillard said that on March 29, he visited the Ministry of the Presidency to seek an audience with Minister of State Joseph Harmon but after he did not get through he went to the Ministry of Public Security and it was a woman there who called the nearby Brickdam Police Station, resulting in a rank coming to him. He said that rank took him over to the station where he met with the then Commander Clifton Hicken, who advised that the matter was for Criminal Investigation Department (CID) Headquarters.
Gillard told the CoI that he was then transported to CID headquarters and later went to the office of Crime Chief Wendell Blanhum. According to Gillard, Blanhum sent him downstairs to "Mr. Caesar," who sent him to an Inspector. He said that subsequently another rank, "Mr. Narine," took a statement from him.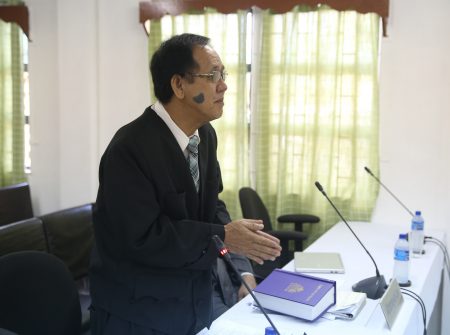 After that, he said, three policemen who he could identify, escorted him to Diamond, East Bank Demerara to "pick up" Khan. He said that he spent most of the day at Eve Leary and would have left around near 4pm to head up to Diamond. He arrived at Brickdam Police Station around 10 am.
Later, he said, a rank, identified as "Laundry," transported him, while Khan, in the company of two policemen, drove himself to CID headquarters. A confrontation was later held between him and Khan, Gillard said, before adding that the following day he went and recounted his story to Travis Chase, a reporter attached to HGP TV Nightly News.
He said that there was a comprehensive interview with Chase and a follow-up was done subsequently. Gillard said that he did see Chase's report on his matter once but "parts that was given was not there." He insisted that the account that he gave in his evidence-in-chief was the same that he gave on two previous occasions – once to the police and subsequently to Chase.
Gillard clarified that on the night he gave his statement to police, a report was made by an "Imran Khan" that he had threatened him and as a result he was arrested. He said he was placed on $20,000 bail, which his wife paid. He said that he was arrested for threatening the "man who gave me the job." The two Khans left before his bail was paid.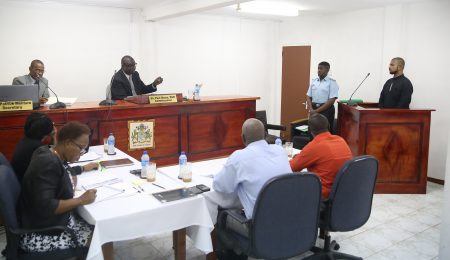 Two other confrontations were held after his story was aired on the Nightly News. The first involved a "Leon Baldeo," who had alleged that he was offered money by Gillard to say that he [Baldeo] was present when the conversation with "Nizam Khan" occurred. Gillard said that he disputed that, while noting that "Baldeo" and "Nizam Khan" are cousins. He said that the other confrontation was with a man he identified as "Anthony." He said that he knows him from "certain places in Albouystown," where senior policemen and business people would drink. Gillard identified some of the policemen by name. "Anthony," who Gillard said spoke to him after the story aired, went to the police claiming that he [Gillard] made allegations because he was just trying to "get back" at the Khans.
He said that another person, identified as "Stephen Persaud," was also at the station on March 29 and claimed that he [Gillard] was making the allegations because of a property issue. He said that he did not see that person nor was he told of the man's story that night.
The witness claimed that while at the station on the night he gave the report, one of the policemen, "Narine," shouted out to "Imran" that "Mr Seelall is on the phone to you." He said that other persons there could have heard when the policeman shouted. He said that he understood the "Mr. Seelall" to be Commissioner Seelall Persaud. He said that the "Imran" and "Mr. Seelall" spoke for about 20 minutes.
In his evidence-in-chief, Gillard said that he and "Nizam Khan" became friends around 2009, when he partnered with him as a promoter and they made a profit. Subsequently, he said he became Khan's barber and chauffeur.
He also said that retired Chief Justice (ag) Ian Chang, who is looking after the interest of the Guyana Police Force and its members in the inquiry, is also known to him.
GGMC engineer
With regards to Abrams, he said that he was offered money to kill him as he was apparently giving the Khans trouble with their land in the interior. "They wanted to offer money to Abrams to stay off their land in the interior," he said, before adding that Abrams declined the money. It was following this, he explained, that he was asked to approach Abrams, who was known to him, and subsequently he was asked to kill him or find someone to do the job. He subsequently learnt that Abrams was shot and killed.
He said he is no longer scared to speak out. "If I was to dead, I woulda be dead since 2015," he said as thanked the government for taking steps to deal with this matter.
Gillard later told the Commission that he is willing to take a polygraph test, if necessary, while making the point that those tests are "50% accurate." He said that if he remembers anything more or knows of anyone who will be of assistance to the inquiry, he will inform the commission.
The only question Chang asked was whether anyone was charged for the murder of Abrams. Gillard responded in the affirmative but said that based on reports, that person has escaped from prison.
Gillard, the only person to take the stand yesterday, questioned whether it is believed that he is a "mad man," since he was not seeing any of the persons he made allegations against in the room.
Slowe, in response, told him that the inquiry is being done to get to the bottom of the allegations made by him as well as to investigate the actions of the police. "The intention is to call other persons," Slowe stressed even as Gillard claimed that persons willing to come forward are scared for their life.
Two policemen are scheduled to appear before the Commission today. The Commissioner of Police and Chase are also among those slated to also testify during the CoI.
The inquiry is scheduled to be completed by August 18 but could be extended if necessary.
Around the Web