Murder accused Desmond James, the prison escapee who was apprehended last Friday night in a wooden shack on Cameron Dam, Canal Number One West Bank Demerara, travelled to the location after another escapee provided him with money.
Residents of the area had related to Stabroek News that James was taken into the area by a female resident.
Asked yesterday if the police were making any efforts to apprehend this woman, Commissioner of Police Seelall Persaud said, "We have a story from James that does not include a female or anyone else except another escapee who would have given him money which he used to take public transportation to go to that location."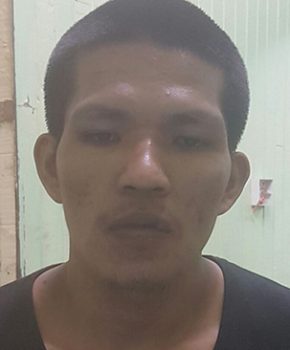 James was apprehended minutes before midnight on July 14, while hiding in an unfinished wooden shack on Cameron Dam. At the time of his discovery, James had a knife and several pieces of clothing in his possession. He had told the police that he planned to travel to Essequibo.
Residents of the area had previously related to this newspaper that they noticed a strange individual occupying the shack but they had no idea "a criminal was dwelling" among them since he never gave them an opportunity to get a glimpse of his face.
One woman, who did not wish to be named, had said that last Friday morning she noticed a woman, who once resided two houses away from the shack where James was found, taking someone into the area in a hire car.
While she saw the woman in the car, she was unable to see James's face. "I didn't suspect anything because he did bend down in the back seat when the car pass," she had said.
The resident explained that she went out and when she returned she asked several of her fellow villagers if they had noticed a strange individual in the area but they responded in the negative.
"But is hide he did hiding right in there," the woman had said as she pointed to the unfinished shack where James was arrested.
Her husband went and informed a fellow villager who contacted the police.
The villager, a farmer, said that he was sleeping on Friday evening when he was informed of his neighbour's suspicions. As a result, he said, he immediately contacted one of his friends who is a rural constable. "I call he and he tell me he gun get on to the police. After a while they turn up and they find the man [James] in the house," he related.
When the police arrived, the residents said, James attempted to escape but they "cranked the gun" and he stopped. He was then promptly handcuffed and taken away.
Around the Web