An overseas-based Guyanese is now a patient of the Georgetown Public Hospital Corporation (GPHC) after being shot during a robbery.
Stabroek News understands that the incident occurred late yesterday afternoon just after the man, who has since been identified as Kwabena Wright, left Republic Bank's Water Street location.
Reports are that the man, who is said to a resident of the Turks and Caicos Islands had just finished a transaction at the bank when he stepped outside and entered a taxi.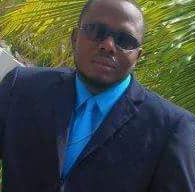 Not long after Wright entered the car, two men, one of whom was armed, rode up on bicycles and ordered him to open the door.
Wright, however, was said to have resisted resulting in one of the bandits firing a gunshot at the car which hit him in his right shoulder. The bandit then grabbed a bag belonging to Wright which was said to have contained an undisclosed sum of cash and fled the scene.
The man was rushed to the GPHC where he had to undergo emergency surgery to remove the bullet.
Around the Web