Two police officers testified on day two of the Commission of Inquiry (COI) into the alleged plot to assassinate President David Granger.
Their testimonies raised questions from the Chairman Paul Slowe as to the competence of the officers conducting investigations into such a grave allegation.
Sergeant Kamal Pitamber was the first to be called to the stand yesterday, where he testified to being the most senior officer on the ground when the investigations began on March 29, when he was instructed by Assistant Superintendent of Police, Caesar, to collect a statement from Andrif Gillard, who has alleged that businessman Nizam Khan offered him $6 million to assassinate the President.
Gillard had testified on the first day of the inquiry that his statement was actually taken by a Narine, and afterwards, three policemen escorted him to Diamond.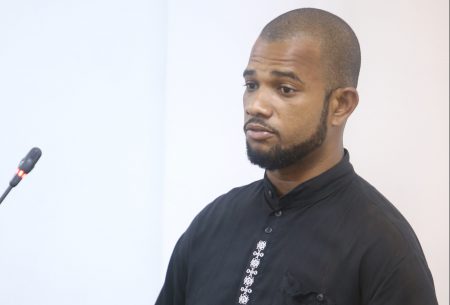 Asked by Slowe to relate what Gillard said in his statement, the Sergeant relayed that he was told that Gillard had approached Khan in 2015 to borrow $6 million and Khan had proposed to him that he kill the President in exchange for the money.
He said he was told that shortly after, Nizam went into his house and returned with a "long, black gun" which Gillard held before returning to Nizam, who took it inside. He said Gillard left and returned sometime later, when he turned down the offer.
"After then, he started to get problems with persons in the area, mainly Nizam…he went to Grove Police Station, he reported several of those…the police was not taking action and he was frustrated and that bring him to the CID headquarters," Pitamber further stated.
Asked under cross-examination by attorney Christopher Ram whether Gillard had been treated as a suspect even though he had been a party to the alleged assassination plot, Pitamber said no.
In Pitamber's testimony, not only did he say he had been the one to take the statement, he also related that it was he who led a team of two other officers, Jermaine Laundry and Deonarine, to Khan's house where the allegation was put to him.
According to his testimony, the three of them, along with Gillard, proceeded to Khan's house at Diamond on the East Bank of Demerara, in an SUV driven by Deonarine.
He reported that when they arrived there, Khan had been in the front yard with another male. He could not say who the male was and related that he had made no attempt to find out, adding that the man had walked away.
The commissioner questioned how it was that he did not see it fit to question everyone, stating that he found this strange given the nature of the investigation.
Pitamber said he approached Khan and told him who he was, then proceeded to put to him the allegation of the assassination plot. He said that Deonarine and Laundry had remained in the car, which was approximately 10 feet away (Slowe actually estimated it to be closer to 15 yards after he asked Pitamber to show the commission the distance he was referring to), but said they should have been able to hear what he was saying as he was speaking loudly.
Cautioned him
The Sergeant said that after he told Khan of the allegation, he cautioned him, and informed him that he was in receipt of information that he was a licensed firearm holder. The man was then made to hand over his gun, and reportedly produced a firearm licence from a wallet, which had been in his pocket. Pitamber said that the number on the licence corresponded with the gun.
Pitamber, along with Deonarine, then proceeded to search Khan's premises, in the presence of Khan and his wife, leaving Laundry behind in the car with Gillard. This, he said, took about 45 minutes.
Asked by Slowe whether he had obtained a search warrant, Pitamber said no, and later under cross-examination, related that it was because the situation was a matter of urgency and getting a warrant would take a long time. Asked how long, he responded half an hour.
The sergeant said that Khan was placed under arrest, but he was not cuffed. He later went on to say that they [himself, Khan and Corporal Deonarine], went back to CID using Khan's vehicle, although he told the commission that he could not recall who drove.
Pitamber's testimony for the most part corresponded with his colleague, Laundry's, in terms of the order of events, although there were discrepancies in details.
The first had to do with the initial encounter with Khan.
While Pitamber said that only he had approached the man when they first arrived at his house, Laundry said that all three of the officers had approached Khan when Pitambar told him the allegation, but Gillard had remained next to the vehicle.
The second is the fact that Laundry could not recall Khan producing a firearm licence for the pistol he handed over.
The third, is the fact that Laundry said that the search of the property, the two-storey house including the yard, had taken Pitamber and Deonarine approximately 20 minutes. He also said that from where he was standing, he could see the front and one side of the yard, but said that he did not see the officers search those parts of the premises.
After the search, he reported that Pitamber had told Khan he had to take him to the CID headquarters, but said he could not recall him cautioning the suspect.
Laundry, too, reported that he could not recall who drove Khan's vehicle to CID, stating it was because he drove ahead. Gillard, however, had testified on Thursday that Khan had driven himself to CID.
CID
Pitamber estimated that they would have left the CID around 4 pm and returned by 6pm on March 29.
He said Gillard gave two further statements that night, but he got no written statement from Khan. He said too that when he returned the next day, he learnt that Khan had given a general statement.
Asked if there were other civilians around when he arrived at CID, Pitamber said there were two young men who came to give statements in relation to the matter.
"…I find this rather strange that all of this [the travel to and from Diamond and the search of the premises] would have been done in that time. And more than that, within this brief time…people were able to come on their own. How they know of this thing to come and say they come to give statement in relation to this matter?" Slowe questioned. Pitamber said he did not know.
The Corporal said he did seek to find out and was told about an incident involving Gillard allegedly stealing tyres from the front of one of the men's property. Pitamber said that as far as he is aware, it is an unrelated matter and has no bearing on the investigation, but later, under cross-examination by Ian Chang, attorney for the Police Force, said that he did get the impression that Khan had been siding with the two men and they were "against" Gillard.
Laundry reported that soon after they arrived at CID, he left, but was summoned about an hour later by Inspector Narine, who told him that there was a "situation".
However, he said when he returned, he saw nothing afoot but was told by Narine that he [Narine] had been called in because Imran Khan, Nizam's brother, had been behaving badly.
This prompted Slowe to enquire as to what role Laundry was to play that he would be called back in to work, with all the other ranks stationed there at the time. Laundry could not say.
During Thursday's hearing, Gillard had said that Imran Khan had reported to the police that he had threatened him and said that as a result of this, he was arrested and placed on $20,000 bail. Gillard's testimony was that the Khan brothers left CID before his bail amount was paid.
Pitamber, yesterday stated that he had left CID around 9:30 on the night of March 29th after taking Khan into custody, and when he returned to work the next afternoon he learnt that he had been released on bail. He said he did not know on what grounds and did not seek to ask.
According to him, someone else had taken over the investigation.
Laundry related that he was told that Imran had made an allegation about Gillard threatening him, but an officer there at the time had apparently put down the claim, saying that he had not heard.
Corporal Laundry was the officer that reportedly took Imran Khan's statement after he made the allegation against Gillard.
Laundry said he was tasked with "passing through" the firearm (which the Commission later learnt to mean "lodge"), which was reportedly released back to him within just 10 minutes of the entry being made, based on an order from Narine.
Asked under cross-examination by attorney Ram, representative for the Khans, what is the procedure for lodging a firearm, Laundry said that this is usually done if the firearm has been used, when a person is being placed in custody, and when investigations are being conducted.
He said that he "presumed" that Imran was being placed in custody and that's why he was asked to lodge the firearm, although he could not say on whose authority this was done.
The Confrontations
Gillard, on Thursday, spoke of two confrontations being held subsequent to that night, involving a Leon Baldeo, who he claimed is a cousin of Nizam Khan, and an "Anthony".
Laundry had also been the officer tasked with conducting those confrontations.
Laundry related that the confrontation involving Baldeo was held on April 25 after a series of deferrals by Gillard, while the one involving Lloyd Adams (Anthony) was held on June 20th, following instructions from Caesar.
Baldeo's allegation was that Gillard had offered him $50,000 to say that he was present when Nizam made the offer to him. He said that Baldeo knew both men and had tried to advise Gillard that the two should work out the problem.
Adams, on the other hand, had reportedly seen reports surrounding the matter on television and made contact with Gillard, who he said told him that the reports were not true and he was just trying to get back at Nizam.
Neglectful
A lot of the information provided by Pitamber yesterday was  reportedly not mentioned in his statement, and only provided under cross-examination. Slowe had asked him to clarify why this was so.
"I'm saying to you that if those things were not contained in the statement, you were not giving an accurate picture of what transpired, and therefore, that's a neglect. If it's not a neglect then it's incompetence…based on what you're saying, if that statement is intended—any statement—is intended to give a word picture to someone who was not there as to what transpired and all of those things were excluded either deliberately or intentionally or unintentionally, it's either you were being neglectful or it's a question of incompetence," Slowe stated.
Pitamber had earlier told the Commission that he had never submitted a written report on the matter, but that a report had been produced, although he could not say by whom. He also said that he had been briefing Caesar at every point during his involvement. He related that the investigation is still open and the matter was sent for advice, but no charges were recommended, although he was uncertain why.
The hearing will continue on Monday, when the Commission is scheduled to receive testimonies from Baldeo, Adams, Caesar, former Commander of A Division Clifton Hicken and Crime Chief Wendell Blanhum.
Around the Web