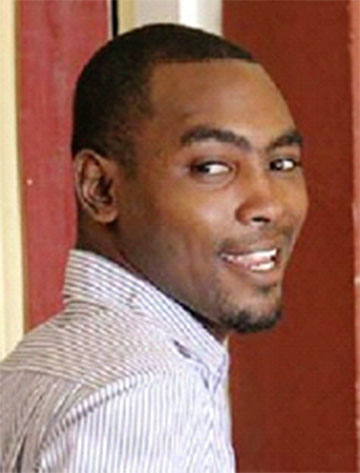 With the approaching third death anniversary of Newtown resident Adrian Bishop, who was shot dead by a policeman, his mother is still questioning if she will ever get justice.
In addition to the "running around" trying to get updates with no success, Adrene McAlmont says that the Coroner's Inquest that was recommended is yet to start and this is a clear sign that the authorities have no interest in the matter.
"Justice delayed is justice denied and I ain't gon' accept that. I got to get justice. The police just can't deh killing people chirren. If he had killed one o' dem, he would have been in jail without any delay," a very upset McAlmont told Sunday Stabroek, while calling on President David Granger to intervene.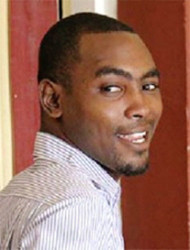 Police had said in a statement that ranks of a mobile police patrol on September 20, 2014, responded to a report received from a policewoman that a suspect, who was wanted for armed robbery, had assaulted her.
Bishop's relatives later said that he and the policewoman were involved in a relationship.
"The police, accompanied by the [complainant], went to Hill Street, Albouystown, where the suspect Adrian Bishop of Garnett Street, Kitty, was pointed out to them. Adrian Bishop was informed of the allegation against him and was arrested and placed into the police vehicle," the statement said.
It was stated that while being transported to the police station, Bishop attempted to relieve an armed policeman of his shotgun and during the ensuing struggle a round was discharged and struck him to his neck. Bishop was later pronounced dead on arrival at the Georgetown Public Hospital.
Residents had told this newspaper that the police force's account of the shooting was inaccurate, while adding that Bishop had no weapon and did not put up any resistance. They said that the policeman pointed the gun at Bishop and pulled the trigger.
In December, 2014, the Director of Public Prosecutions (DPP) recommended that an inquest be held into the fatal shooting.
According to McAlmont, the inquest was never done. "Is more than two years already. It was never done and the case never call. It was never in court, nothing. I feel an injustice has been done," the emotional mother said.
She said that inquests into matters that occurred after her son's death have already been completed while she is still waiting. She questioned why this is so.
The woman said that since her son was killed, she followed up many times with the police but they keep telling her that they have no leads. She said that on a few occasions, she attempted to see the Divisional Commander but was told he was busy. She could not recall the last time she visited the commander's office.
"I follow up with police, and they ain't got no lead, nothing at all…They didn't have no new info to tell me, nothing, not even to tell me that they sorry," she stressed as she relived the pain of losing her eldest child, who would have celebrated his 28th birthday this year.
She said that she expected the police to drag their feet on this particular case, given that it involved two of their own.
However, she made it clear that she will not allow her son to be another statistic and for those responsible for his death to walk free.
"Right now, I trusting God for justice and I asking the President to intervene," she said before adding that she was shocked when she heard that the shooter was back on the job. She said that she would have expected that he would be off the job until the inquest is completed. She last heard that he was stationed at the Brickdam Police Station. The policewoman, she said, also remains on the job.
"They decide to let this case lapse because a policewoman was involved and it look like a cover up. She is still in the force as well as the shooter… He should have been off the job because that is a murder," she said.
Insisting that an authority other than the police should be investigating this matter, McAlmont said that the Granger government has disappointed her as before taking office, it had promised to reopen cold cases. "I thought with a different government that cold cases will be looked at. This is a cold case and I see the need to look into it," she said.
"I don't know what to do but I gon' keep fighting 'cause I gotta get justice," she stressed.
Bishop, at the time of his death, was a repeat offender, having faced several charges, including armed robbery.
Then Crime Chief Assistant Commissioner Leslie James had said that allegations of a policewoman being involved with Bishop was of concern to him but added that at the same time "we can't jump and touch the roof…We have to investigate first…we have to get confirmation."
He had said that he was unsure if this aspect of the matter was being addressed by the Police's Office of Professional Responsibility, which was investigating the shooting at the time.
"I am not sure how it [the relationship the two allegedly shared] is being dealt with," he had said.
The Guyana Police Force has never publicly indicated the outcome of this aspect of the matter.
Around the Web