A fire of unknown origin yesterday destroyed two living quarters located in the squatting district of Riverview, Ruimveldt, Georgetown.
The fire, residents said, started around 11 am and was gutted in minutes despite persons from the area forming a bucket brigade and working strenuously to put it out.
A prompt response from the Guyana Fire Service led to the swift extinguishing of the fire and the saving of neighbouring buildings.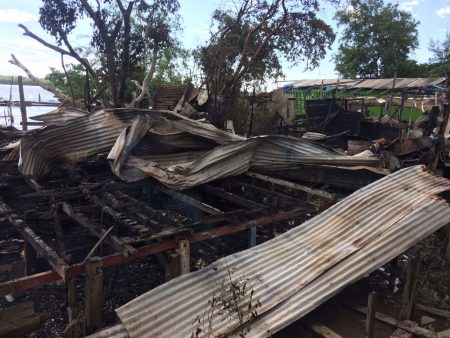 According to John Madramootoo, an owner of one of the buildings, he was preparing to attend a funeral when he heard shouts of "fire! fire!"  He explained that when he ran out of his yard onto the sea dam he saw a pall of black smoke and ran to his building, which he said had already caught on fire.
He added that his building comprised living quarters but he recently converted it into a storage facility since no one occupied it.
The building was used to store outboard engine parts, fishing and boat equipment along with tools that Madramootoo would use to ply his trade as a mechanic.
Asked if he has any possible explanation for the fire, Madramootoo responded in the negative. He noted that his losses are approximately $600,000.
There were reports that the first building was set on fire and later caught on to Madramootoo's building.
Residents said three fire tenders responded to the blaze and worked to contain it. They were praised for their prompt and swift work in putting out the fire.
Around the Web