The owner of the $200 million, two-storey building which collapsed in Lethem, Region Nine on Wednesday last, maintains that the collapse was due to flooding in the area at the time and not the failure to ensure proper building codes were followed.
Amidst concerns raised about the strength of the building, its owner Frank Satnarine insisted, "It is a natural disaster. It was the storm in the night that caused this building to collapse. Those people who live in Lethem who heard thunder and lightning they weren't even coming out of their house. There was flood in my place. I have pictures of the watermark to show that there was water. To show the level of the water at the time when the building fell."
Satnarine told this newspaper on Friday: "They are talking about building codes and all of that and nobody followed the building codes. Do we have building codes in Guyana? What are the building codes for putting up a building in Lethem?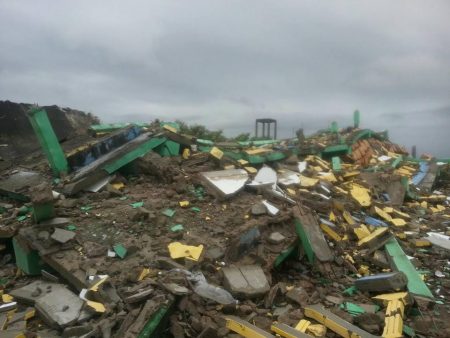 "Okay, yes we didn't follow the building code but what are the building codes? There are no building codes, there are safety codes. You put on your helmet, you put on your safety strap, but we don't have specified building codes in Lethem to say the building wasn't constructed strong. It is a steel structure. The building has been there since 2012 and it woulda done fall down if it was a construction fault."
Lethem Mayor Carlton Beckles, in an invited comment on Thursday had told this newspaper that flooding could not have been the cause for the collapse of the building. "There are other buildings in the area. They remained standing. There is a three-storey building in Tabatinga. That building withstood floodwaters for days in 2011. You need to look at those comparisons. Need to do a proper assessment then you can determine what the reason for the collapse was rather than blame it on the flood," he said.
He added that indeed while there was some amount of rainfall on Wednesday, there was no prolonged collection of water in the area.
An engineer in the district, who spoke to this newspaper on the condition of anonymity, said it would be impossible for the building to collapse due to rain and flooding. "From an engineering perspective I don't think that would be possible without a tremor of some sort. This was just normal rain. Lethem wasn't flooded at the time. I have never seen or heard about rain bringing down a building in my whole life," he said.
He added, "Whatever building code governs country is supposed to govern Lethem. I don't think Lethem has a different code."
Meanwhile, Satnarine said the building was originally meant to house a store but due to the amount of competition in the area it was in the process of being converted to an agro-processing plant. "The building cost me more than $200 million to build. I built it for a store, a one stop shop. But by the time I finish constructing my building, Lethem was flooded with Chinese and I couldn't go further into creating that kind of business. I would have to compete with the Chinese…in the commercial zone," he said.
"I had already invested $200 million. I was going to convert it into an agro-processing plant and to make bottled water. I had all the machines in the building. I had already sent my proposal to the Town Council and other places as to what I planned to do. I was investing another $25 million into the building. I was going to process peanuts, cashew nuts, make achar, bottle honey and farine to create employment. I had already started to bring all the material in, they are covered up in the rubble."
Asked what the next step is for him now the businessman said, "Well I have to take a pause. I have invested a lot of money… There is no insurance to cover me for the contents of the building. I wasn't established, so the insurance company couldn't make an assessment. If the business was already in operation they would have come and done the assessment. There was nothing happening at the building. We were reconfiguring the building to suit the next stage from a store to a packaging centre. I had no insurance for the valuables in the building I had for the building itself."
Around the Web