Fifty-six persons living with disabilities in regions Four and Ten on Friday graduated with skills in Information Technology, Computer Repairs and Cosmetology following the completion of eight months of training.
The introductory courses were the result of collaboration between the National Training Project for Youth Empowerment, the Board of Industrial Training (BIT) and the Guyana Council of Organisations for Persons with Disabilities (GCOPD).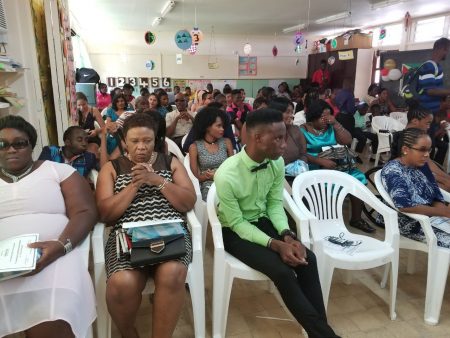 During the graduation ceremony, which was held at the David Rose Special School, GCOPD Programme Coordinator Ganesh Singh said that the students were instructed by tutors who had experience in teaching persons with disabilities.
According to Singh, the training was for persons with various types of disabilities, including visual, physical, intellectual and learning, as well as the deaf. He noted that while the project targeted the disabled in regions Four, Six and Ten because of the cluster of persons living with disabilities in each as well as their availability and the need for training, more regions will benefit soon.
Singh told the gathering that like in every start-up programme, in the initial stage, there were some challenges. He cited punctuality and the attendance of the students. He added that a few dropped out but they were able to rectify the problems.
Singh said that the government funded the training and it will now be held accountable for providing jobs for the new batch of trainees and the others to come in the future.
Meanwhile, Donald Ainsworth, the BIT Vice-Chairman, said he was glad to see the government and BIT are providing training for the young people with disabilities. He noted that the graduates had overcome many obstacles in order to learn. "I urge you to continue to work hard and to seek knowledge, not allow any circumstance to stop you from going forward," he said, before charging them to keep developing their "special talents" that will help to develop and bring a positive contribution to the nation. "As citizens of Guyana, you are entitled to a fit and proper education. The Constitution of Guyana guarantees education for nursery to tertiary and you demand your fair share," he told the graduates.
Junior Minister of Social Protection Keith Scott, who gave the feature address, told the graduates that they have a responsibility to make a difference in society. He also noted that they do not have to be perfect to have an education. "The government will make sure that all are educated, since it is a tool of empowerment… This graduation is another testament of the government empowering the youth," he said before urging that the graduates share what they have learnt with others who may not have benefited from the training, and to continue empowering themselves and others in their communities.
Around the Web