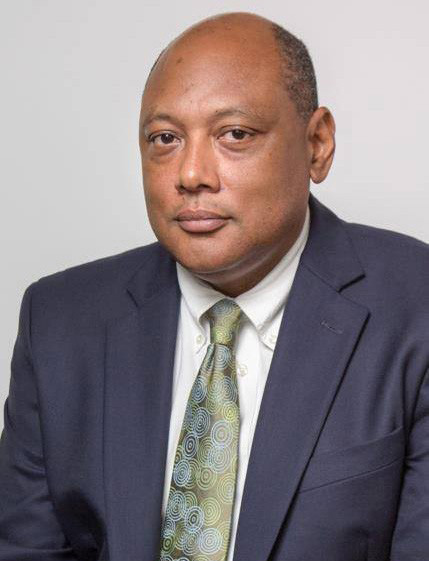 As ExxonMobil prepares for 2020 oil production here, government has assured that it will meet the necessary environmental and occupational health and safety standards to aptly monitor the oil and gas industry and prevent hazards.
"We are not concerned but that is not to say that we are adopting a laissez-faire attitude to just assume all is well. We are working assiduously to put policies and regulations where necessary in place by 2020," Minister of Natural Resources, Raphael Trotman, told Stabroek News last Friday, following a site tour of the ExxonMobil's onshore support base-Guyana Shore Base Inc (GYSBI) at Houston EBD.
Managers of GYSBI have also underscored safety as they prepare their 28-acre facility to meet the needs of United States oil company. They have given next year March as a potential completion timeframe for the complex, which will house Exxon's warehouses and a mud plant.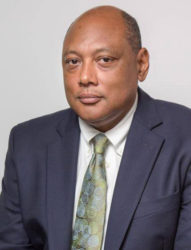 Port Development and Operations Manager Rabin Chandarpal told the press during the tour that the company wished it had more space but was working to ensure that Exxon has all the services needed at the "one stop" facility.
On May 20, 2015, ExxonMobil announced a huge oil find in the Liza well in the Stabroek Block. It is the Liza Well that the GYSBI facility would be servicing and the company said that prevention of roadway hazards were taken into account in planning the integrated facility.
"Just the sheer volume of activities that is going to take place to complement the wharf that we have, where the vessels are going to come in to service the rig. It is very important in the grand scheme of things that that you have an integrated shore base. A shore base where heavy movements of things like pipes and waste and all sorts of heavy material, whether in containers or loose, it is very important that they happen within the facility and not traversing the roadways," Chandarpal asserted.
"We already know and it is well documented that our road safety culture in Guyana is one where we are already at risk travelling these roads that you don't want to add to it by having heavy pipes and so moving along the roadway. It is very important that everything be integrated within this facility," he added while pointing out that at the facility there would be two paved access to allow free movements of vehicles and pedestrians it.
Trotman pointed out too that ExxonMobil and its contractors have also set high safety standards, "because whatever they do or not do, affects their share prices international reputations etcetera."
Halliburton, a leading American oil field services company, has established an office in Guyana and as it begins assembling its local workforce, Country Manager Gerald Leboeuf says it would be training Guyanese to meet crucial safety standards for oil and gas rig work.
In an interview with Stabroek News, Leboeuf emphasised that ensuring that all safety standards are met so there are no accidents is pivotal.
"On the rig, everything can be just rosy today and tomorrow there is a full blow out. You have, say people killed, the environment polluted, Venezuela and Guyana have oil on their shores if you have people that don't know what the heck they are doing," he said.
"Just like the Horizon that happened in the Gulf of Mexico, they had their own BP guys that made the wrong decisions… You can see how quick things can escalate when they are not done properly… It takes a flood weight to hold the pressures down when you get to a reservoir and if you don't have the right flood weight that can come back at you, and it has many, many, many times around the world in the last 100 years…It is why we do not let anybody go out on their own until it is established that they are absolutely ready," he added.
Leboeuf was making reference to the Deepwater Horizon disaster that left 11 persons dead and saw approximately 4.9 million barrels of oil spilled into the Gulf of Mexico in 2010.The rig was leased by British Petroleum (BP) to run its operation, while Halliburton provided the cementing services at the Macondo well.
The US government, in a September 2011 report, pointed to defective cement on the well and largely faulted BP but also rig operator Transocean and contractor Halliburton.
Another oilfield services provider Schlumberger has also advertised for local staff.
Trotman pointed out that government was confident that by the time of production it will have acquired needed resources to enforce regulations pertaining to both environmental and occupational safety.
He said that a multipronged approach was being planned with the local Environmental Protection Agency (EPA) overlooking matters pertaining to environment and his ministry and the Ministry of Social Protection dealing with health and safety. He believes that in addition to the international help now being had in the planning the citizenry should not fear potential hazards.
"The EPA is the lead agency for environmental matters and they have been receiving support even now a Canadian consultant is with the EPA boosting capacity looking at production licenses, protocols etcetera .The health and safety aspect will be shared between our ministry and the Ministry of Social Protection, draft regulation to get us up to speed by 2020," Trotman explained.
"These standards exist elsewhere so we are incorporating them into Guyana with some adaptation that they meet local standards. We are looking to bring into or import to Guyana the best environmental and best health and safety standards into the country. They exist elsewhere," he added even as he pointed to standards set by the International Labour Organization that has been assisting government.
Around the Web