Kerry Cromwell – Murder – Twenty-three-year-old Cromwell, an ex-convict was remanded to prison in April last year after he was charged with the murder of Linden bus driver Alvin Lorrimer. Lorrimer was shot while he was standing outside his bus at the Linden bus park seeking passengers in March 2015. Cromwell who was previously convicted and sentenced to community service on a narcotics offence, has been charged in connection with several armed robberies. He was charged in March 2011 with robbing two persons, one while armed with a knife, of $124,000 and $19,000 in cash and articles. On this occasion, he was shot by police while being apprehended. In September 2014, Cromwell, along with Nicholas Brazil, was charged with robbing Ashanti Lawrence at gunpoint at Enachu Street, Section 'K,' Campbellville. In December 2015, he was charged with robbing Deon Hilkin of articles valued $97,000, while armed with a broken bottle. He was also accused of stabbing Hilkin with the bottle and of assaulting a police officer and escaping from lawful custody.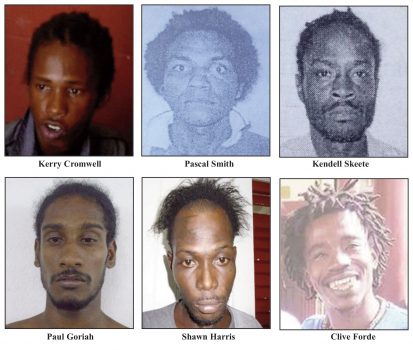 Pascal Smith – Smith, 25, was charged and remanded to prison only last month over the murder of John Houston which occurred on May 27, at Alexander Street.
Kendell Skeete – Skeete, 34, was held during May 2015 after seven years on the run. He was charged with the October 2008 murder of Kenneth Allen who was stabbed to death allegedly during an ill-fated rescue attempt at Goed Fortuin, West Bank Demerara.
Paul Goriah – Robbery/Murder – Goriah, also known as 'John John,' 28, of Timehri was among the three men charged last year with the murder of Hill Foot farmer Anthony Breedy, which occurred between March 12 and March 14, 2016. Breedy was found dead in the bottom flat of his Lot 67 Hill Foot, Soesdyke/Linden Highway home. His hands and feet were bound and his head was bashed in. The trio was committed to stand trial for the crime in May.
Shawn Harris -Murder – Harris called 'Shawny' or 'Bruk Up', 31, of Pike Street, Kitty was charged with the murder of vagrant, Sunil Singh, also known as 'Grey,' on February 5, 2017, at Owen Street, Kitty. Singh was fatally stabbed after he attempted to rescue an employee of a Lamaha Street nightclub from an attack by three men. Harris is also one of the suspects who was charged in connection with the robbery of the Bank of Baroda branch at Mon Repos in January 2016.Four men, one of whom was armed with a gun, had entered the bank and held up the lone female private security guard on duty and took away her .32 service revolver. During the attack, which lasted for about five minutes, the men then held up the two female tellers, grabbing over $2 million in cash and escaping in a waiting car bearing false registration plate PNN 8984.
Clive Forde-Murder – Forde called 'El Stinky,' and another accused Keiron Taylor were charged with the murder of East Ruimveldt resident Senassie Lewis. Lewis was gunned down in September, 2015, in front of the popular Ghetto Flex nightspot in Albouystown. They were committed to stand trial for the murder following the closure of the Preliminary Inquiry (PI) in March 31.
Around the Web