Having recently celebrated its first anniversary as a company, the social impact project weOwnspace, remains resolute in its efforts to support the needs of Guyanese entrepreneurs while remaining sustainable in a developing economy.
With a name that was chosen to reflect and celebrate both the local language and deeper context of the society – 'we own' being 'ours' or 'belonging to us' – and the diversity of Guyana's people and unique culture, weOwnspace is a pilot project that provides communal office space facilities at affordable membership rates as well as an active community of entrepreneurs and business professionals who meet occasionally at events held regularly at the 'space' to connect, share and learn.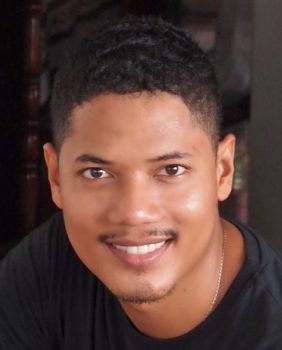 In a recent interview with Stabroek News, Co-founder of weOwnspace Eldon Marks said there was a clear and present need among the numerous aspiring entrepreneurs and talented young professionals to have an environment which better supported them on their professional journey; this was recognized by him and Co-founder Chitra Dwarka.
"Workspace is critical to budding entrepreneurs and startups, however in our economy it is quite challenging to raise enough capital to invest in furnishing and sustaining a physical workspace. Further, we saw the importance of community and networking in professional development and sought to create an ecosystem to promote collaboration among various professionals," he explained.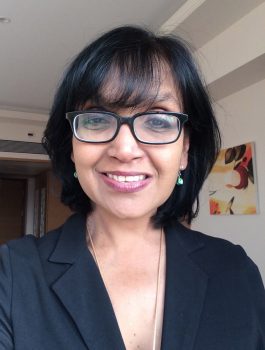 Therefore, weOwnspace was developed to serve as the economical launch-pad for budding professionals and startups, particularly IT-focused startups which have tremendous potential to positively impact Guyana's developing economy.
In addition, the weOwn model leverages best practices of the global co-working movement but is aimed to be locally attuned to meet the needs of aspiring Guyanese.
Commenting on the achievements made during the first year of operation, Marks said, "Recent comments by some of our members say it all as the value we deliver is our most notable achievement since individuals can spend less in rental, giving them more capital to invest into the business. Like minded business professionals also have the opportunity to collaborate, and share workload and ideas to improve our economical state.
"WeOwn is building a community around Guyana's young and ambitious people, giving them an opportunity to connect and grow together. This can unfold many unpredictable benefits to Guyana's future economy."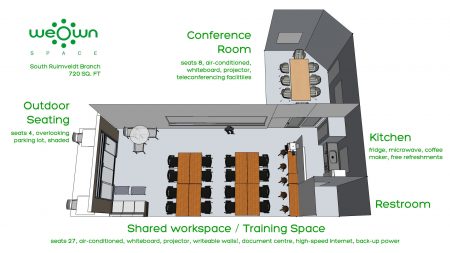 During its first year of operation, weOwnspace served a total of 37 onsite members, including professionals in Information Technology, Marketing, Photography, Professional Development, Education, and Event Planning and Coordination. The organization continues to serve well over 270 online community members, some of whom include well-known personalities and entrepreneurs such as Sonia Noel, Vishnu Doerga, Lindell Danzie-Black, David Yhann, Dee George, Avia Lindie, Lance Hinds, Rosh Khan and Karen Ann Abrams.
Some of the entities that currently benefit from the initiative include: Sure Gig, possibly the first or one of the first employment agencies in Guyana; Version75 Solutions, a tech startup in Guyana specializing in Websites, Information Systems and Mobile App development and Housty Designs, a social media and tech-focused agency.
The right environment
A lecturer at the University of Guyana with 12 years of experience in instruction and student mentorship in the field of Computer Science, Marks said he owes much to the university's environment for the realisation of his true potential and professional evolution.
"This environment comprised my instructors, who later became my colleagues as well as the combination of events, opportunities and networks, which, most importantly, helped me – a once average student, realise that he can achieve great things if the right conditions were present. In the 12 years spent mentoring students at the university I have realised that Guyana is in no short supply of highly gifted young minds with very little awareness of how much potential they truly possess. In Guyana, however, there are little to no [deliberate] environments which may further culture our rich human capital to achieve great things," he added.
"This is my motivation; weOwn space is our deliberate environment designed to culture and support Guyana's rich human capital," Marks shared.
For Dwarka, a senior manager and leader with extensive experience in technology product management, new product development and innovation and team building, among other areas of expertise, her motivation for waiting to be a part of such an initiative stems from her desire to serve her home country of Guyana and the legacy of her parent who she said gave a start in life to hundreds of very poor children from the sugar estates and beyond, when education was not free and the conditions for surviving and thriving were absent.
"As a returning Guyanese in 2013, after many years of residing in Boston USA, I was struck by the challenges facing some very talented young people of much energy and enthusiasm, but with limited avenues to grow and develop their outstanding ideas to a world-class level. They needed opportunities, training, mentorship and resources to manifest their potential," Dwarka explained.
"From the beginning, I understood that to make a difference required time, building of partnerships, and being persistent and consistently present for the long haul. I am looking forward to working in collaboration with our evolving weOwn community, neighbours and friends to reach some of these goals for the greater good, social impact and transformation. My background is in technology management in Boston, a dynamic area of innovation with density of educational institutions and mindset of collaboration and entrepreneurship in its startup ecosystem. I understood and felt that there may be something that I could offer and wanted to explore this further," she added.
As a result of an ongoing collaboration with Marks, Dwarka said, the idea of creating a co-working space and community of engaged entrepreneurs evolved as a place to create the conditions of success and grow an entrepreneurial ecosystem.
The partnership that developed has evolved over the last three years beginning with a deep exchange of information, and sharing of resources and capabilities across two continents, she added.
In terms of the challenges they faced during the first year of operations, Marks highlighted the difficulties of achieving a sustainable revenue model, especially since the initiative is tasked with providing the value expected of economically-challenged entrepreneurs.
"We knew that we needed to meet the economic needs of budding professionals while remaining sustainable in an already constrained economic climate and if successful, the model could prove significant for other developing economies like our own, while operating in Guyana's economy bore risks when it came to offsetting our operating expenses. There was much pivoting that was done over the year-long period to finally arrive at a sustainable revenue model that preserved our low membership rates," he explained.
"In short, we found strength in community as part of this recipe and bartered services with our resident members while exploring a form of tech-related income through data entry services to arrive at a sustainable model. We are happy to announce that 11 months into its operation, weOwn space made its first profit and the future looks very promising from here on in," he added.
Looking to the future, it is their hope that they will be able to document the findings of the weOwn space model and encourage support from the relevant agencies to replicate this project in other areas of Guyana and later, other economies that are similarly disadvantaged.
"In the next five years or so, we expect many other social impact programmes and initiatives to emerge from the weOwn space ecosystem and as a result, a thriving entrepreneurial community and stronger economy," Marks said.
Those who are interested in learning more about weOwnspace can do so by visiting the website at https://weown.space/ or on telephone numbers (592)-616-2075 and (592)-641-5808. The company is located at Lot 3 David Rose and Aubrey Barker streets, South Ruimveldt Gardens, Georgetown.
Around the Web