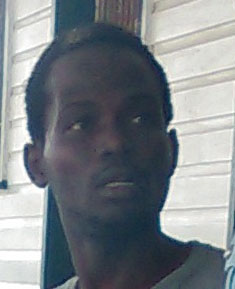 A city magistrate yesterday issued an arrest warrant for Shawn Harris, one of the prisoners still on the run after escaping from the Lusignan pasture holding area.
Harris, called 'Shawny' or 'Bruk Up,' of Pike Street, Kitty, was charged earlier in the year with the murder of vagrant, Sunil Singh, also known as 'Grey.' The charge stated that Harris, on February 5, 2017, at Owen Street, Kitty, murdered Singh.
Singh was fatally stabbed after he attempted to rescue an employee of a Lamaha Street nightclub from an attack by three men.
The preliminary inquiry into the charge, which is being conducted by Magistrate Fabayo Azore, yesterday saw police prosecutor Assistant Superintendent of Police Stephen Telford making an application for an arrest warrant for the accused.
This application was later granted by the magistrate, who adjourned the proceedings until August 18.
Harris is one of thirteen prisoners who escaped from the Lusignan Prison pasture early Monday morning, after digging a tunnel that took them under the fence and into the backlands. Seven of the men were recaptured the same day.
Around the Web