A disturbance erupted yesterday morning at the new brick prison on Camp Street, hours after 86 prisoners were transferred there from the Lusignan Prison pasture but members of the Joint Services were able to keep the peace.
Stabroek News was told that several of the transferred prisoners started the disturbance after claiming that they are uncomfortable in the facility, which was very hot.
An alarm was raised when the prisoners began to break the beds in their cells, bang the doors and even break sections of the prison.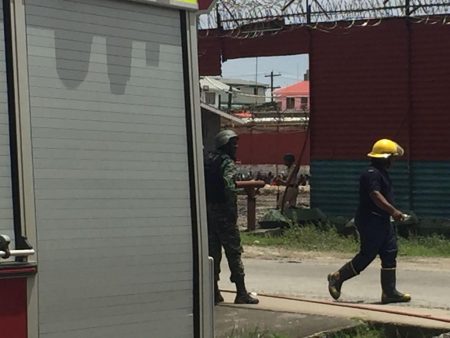 When Stabroek News arrived at the scene shortly after 10 am, members of the fire service and heavily armed police officers and soldiers, who were summoned, took up positions around the prison compound. A fire truck and ambulance were also present in case of emergency.
Several inmates could be seen in the open compound but they were later placed back into their cells.
The inmates, who were deemed high profile by authorities, were the remainder of a total of 99 prisoners who were previously held in a swampy pasture near the Lusignan Prison.
The other 13 escaped on Monday morning by tunneling out of the pasture and into the Lusignan backlands. Seven were recaptured the same day.
On Monday, Minister of Public Security Khemraj Ramjattan had told reporters that efforts were being made up to Monday afternoon to transfer the remaining 86 prisoners to the brick prison at Camp Street, which had been sufficiently completed to securely hold them.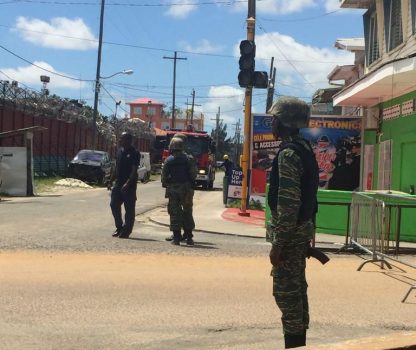 Ramjattan had said during a previous press conference that preparing the Camp Street facility could take another few months. However, following Monday's jailbreak, he said the transfer would be fast tracked. "I had wanted an administrative building, an infirmary and couple other things to be built before we have them there but we have to now fast track that because of their behaviour. It is not easy having these real bad guys in that area and we feel that there will be other attempts; we feel a number of other things will be done for them to be motivated towards getting out," Ramjattan said. "They will now have to get a tented admin building to reinforce the new brick prison…
It is a very tough decision but knowing what has been transpiring, the things that have been going on there, their actions… we got to lock these people down and we don't have any other place but the new brick prison. Mazaruni and New Amsterdam are very saturated," he added.
Around the Web