A veteran pilot attached to domestic airline, Roraima Airways died yesterday afternoon after his plane crashed while approaching the Eteringbang airstrip in Region Seven (Cuyuni-Mazaruni).
The deceased pilot has been identified as 39-year-old Collin Winston Martin, the chief medical evacuation pilot for the airline.
Martin's body was flown out of the area last evening and arrived at the Eugene F Correia International Airport around 8:30 pm.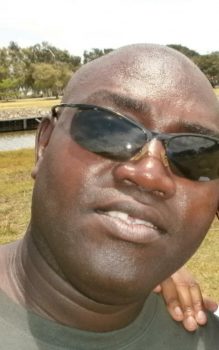 According to Chief Executive Officer of the airline, Captain Gerry Gouveia, Captain Martin who was flying solo at the time of the incident was returning from Ekereku, with another Roraima- owned aircraft behind him when the incident occurred around 5:30pm.
"They move fuel from Eteringbang to Ekereku mountains to the miners. They shuttle the fuel because to get fuel onto the mountain they have to fly it in… He went in this morning (yesterday) and they were going to continue working tomorrow (today) and then come out in the afternoon,"
Asked if there was any radio distress signal from Martin before the crash, he said there was none. "Nothing at all. There was another pilot flying immediately behind him and if there was any distress he would have radioed. Whatever happened, happened suddenly. The other pilot is now with the Civil Aviation talking to them. I am sure there were eyewitnesses who will tell us what happened, we will then put the pieces together. Investigations will start immediately,' Gouveia said.
Questioned as to whether it is normal for pilots to conduct an overpass at the end of the day and whether Martin was participating in an overpass when the incident occurred Gouveia said, "We have no information of an overpass but when you fly in the interior it is not unusual for pilots to check, these are uncontrolled runways. I don't know if he did, but if he did he would be following correct procedure because you don't have a control tower to tell you that the runway is clear and so pilots will normally fly over the runway to confirm that."
"As we speak the civil aviation authority is actually speaking to the other pilot. The only report we have so far is that the aircraft was closing off its operations for the day and it was empty. The pilot was flying along and he was going into land when the aircraft crashed," he said.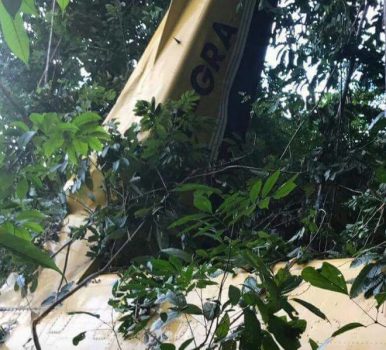 While he explained that there is no indication at present as to why the accident occurred, he said that this morning several inspectors are expected to fly into the area. "Tomorrow (today) at 8am we are flying in the civil aviation inspectors to go and start to put the pieces together. But at the moment we don't have any explanation other than what we were told that the aircraft was going into land when the accident happened."
He further informed that Martin was an experienced pilot who would have carried out several successful medical evacuations over the years. "He is actually our chief pilot. Ex-army major, he was in the Special Forces. He was an experienced and wonderful pilot. This is a great loss to Roraima. The entire Roraima team is very much shaken at the moment."
"He has been working for us approximately 5 to 6 years and he is actually our star medical evacuation pilot. Following the death of Captain Alvin Clarke, Captain Martin saved many lives at night all over this country. His loss is a great loss to Guyana as well. It is a big void that is left with his death," the CEO said.
Director General of the Guyana Civil Aviation Authority (GCAA) Retired Col. Egbert Field also told reporters that investigators will be heading into Eteringbang this morning to begin investigations.
Field added that the Accident Investigation Group will also be forthcoming with a preliminary report. "The deceased pilot, the other pilot and the aircraft will have to be investigated. I don't think we will be short of witnesses," he said.
He also explained that while the general area where the incident occurred is "treacherous terrain", the particular section where the airstrip is located is an area of fairly flat lands, "but I am sure the pilot would have made a good judgement in estimating his approach. I don't think that weather was a problem because talking to the other pilot who was behind him he said it was a clear day."
"Great loss"
Meanwhile, Director of Operations at Roraima Airways Learie Constantine Barclay told this newspaper that he had known Martin for over twenty years since they were both officers in the army.
He also described Martin as a dedicated and courageous pilot. "He was a very experienced and dedicated, conscientious, well trained pilot and extremely courageous. He took over the night medevac service so he was the person who would fly many of the night medical evacuation services and was trained by Captain Clarke and Captain Gouveia. This is a great loss on a personal level and a family level for Roraima and this cannot be described in words it is shocking."
Wesley Kirton who spoke on behalf of the family told reporters that Martin who would have been celebrating his 40th birthday on August 14 leaves to mourn his wife Dr. Roberta Martin and eight year old daughter.
While Dr. Martin was unable to speak at the time, Kirton said, "She wants you to know that sometime later she will be prepared to speak. What she wants me to say to you is this comes as a great loss and tremendous shock to the family, she said her husband is a family man that is committed to his family, a hard worker. He was a happy person, dedicated and experienced pilot."
"Like everyone else she is awaiting information on what has happened and what caused this accident to happen," he stated.
Gouveia yesterday posted the following on his Facebook page.
As this day ends , and the country sleeps , my staff and I are plunged into deep sadness.
My heart goes out to the family of our Chief Pilot
Captain Colin Martin.
This afternoon as he was closing off his days work and was preparing to land his empty aircraft, something happened!!!!
The investigators will find out.
His aircraft dived , nose first , into the dense jungle below him.
It had to be quick.
He died on the jungle floor this afternoon.
He was 39 years old and was preparing to celebrate his 40th birthday on the 14 of August.
He leaves to mourn his wife and
8 year old daughter .
I deep condolence goes out to his family.
May his soul Rest In Peace.
Roraima Airways mourns the loss of our chief pilot.
Around the Web