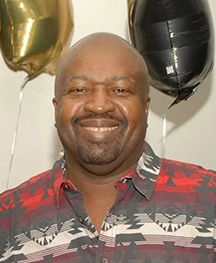 The Working People's Alliance (WPA) says that its representative in government, Dr. Rupert Roopnaraine unilaterally made the decision to rescind his resignation after speaking with President David Granger and it is one the party supports.
Further, the party underscored that it trusts Roopnaraine's judgement of his own health and capabilities and unlike their laid back attitude when he was Minister of Education, they will now take an active role in supporting him as he executes his new job.
"Dr. Roopnaraine remains our representative in Parliament. We know that his health is not good and we defer to his judgement on his health," Party Executive, David Hinds, told a press conference yesterday at Rodney House.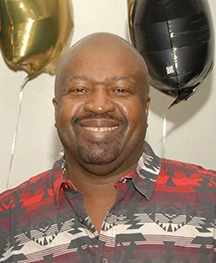 "Our position is, as our representative, we defer to his judgement as to whether he can function in office. So it is not a matter of disappointment or not. He remains our first choice to represent us in government and we defer to his judgement on whether he can continue…We leave it up to you decide whether you are well enough to continue or not. It rests with the WPA but we defer to Dr. Roopnaraine's judgement on his health," said Hinds.
On July 19th President Granger, when asked if Roopnaraine had resigned said that he had received a letter from Roopnaraine but would not divulge its contents.
Regarding whether he had accepted the resignation, President Granger had told reporters that he had planned to meet with Roopnaraine later that day to discuss "certain matters with him… but right now Dr. Roopnaraine remains a member of the Cabinet."
It was Hinds who subsequently told Stabroek News that Roopnaraine did submit a resignation and before doing so, the one-time Education Minister who was reassigned to the Ministry of the Presidency (MoTP) just over a month ago, consulted "fully' with the party and enjoyed the party's full support.
But the following day, Minister of State Joseph Harmon announced that the 74-year-old Roopnaraine would continue to serve as a minister in the MoTP and as a Member of Parliament.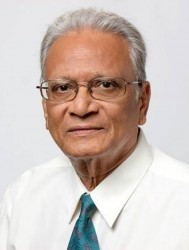 Harmon said that this was after "fruitful discussion" with the President, with respect to his portfolio.
He told the media that following the meeting which was held in his presence, it was decided that Roopnaraine would "continue to serve as minister in the government, as a Member of Parliament and as a valued member of our Cabinet."
He said the President spoke about Roopnaraine's "contribution to this country and his ability and capacity to continue to contribute."
Harmon said too that the President was "happy that Dr. Roopnaraine has actually pledged to continue serving in the interest of all Guyana."
When asked about the reason for the resignation, he said Roopnaraine felt that his health situation was making it challenging for him to contribute at levels to which he was expected.
According to Harmon, President Granger "gave him the assurance that he will be given the support he needs to continue to function in his ministry effectively."
The WPA said that it will also give Roopnaraine whatever support is needed as he functions in his new job portfolio.
"Whatever position Dr Roopnaraine assumes we will be supporting and helping him to ensure he performs to his optimum. We in the past did not do that when he was at the education ministry. This time around we are going to do that…helping our minister, our nominee to do the best job he can," Hinds asserted.
And why the support was never given? Hinds said that some decisions are made after assessments of situations and the WPA would have had its own introspection and believes now is the time to take the course it is. "Sometimes in politics things are not as readymade. If we, six months after the elections had come to the government, started to be assertive then the very people now who are asking us now 'Where were you these two years' would have said 'de people just come to power gi dem a chance nah. Why you fighting dem down fuh?'…Sometimes things have to come clear and manifest and then have to burst, like we have been having," Hinds explained.
The party believes that when the President committed to supporting Roopnaraine it meant not to incur additional expenses for a sick person but the regular support given to all ministers of government.
"No, he would not be getting more assistants than other ministers are getting. Ministers have a staff, they have Permanent Secretaries, all of those things and they said they would ensure that those things are in place for him so it is not about any special thing for him; at least that's not our reading," Hinds said while also adding that the party does not know specifically what the Head of State promised Roopnaraine.
The WPA also brushed aside assertions that Granger might have persuaded Roopnaraine for his own fear that a replacement might be more forceful. "We don't have any evidence of that. We have heard that in the wider society, and people are free to make their judgement one way or the other, but we have not arrived at that position within the party," Hinds said.
Hinds said that he also doesn't believe that Roopnaraine's resignation and swift pulling of that resignation weakens his party any bit.
"We do not think that his withdrawal weakens us in any way…you know if you are in government and your president asks you to continue, you don't want to rebuff your president out of hand you want to at least give the request some consideration and I think it is that spirit that Dr. Roopnaraine acted," Hinds stated.
Asked if Roopnaraine's health affected his current performance negatively whether the WPA should accept part of that blame, Hinds said no. "That question should be directed at the President and no we didn't ask him to stay on. The President asked him to stay on."
Roopnaraine, who served as the Minister of Education, was reassigned to the MoTP just over a month ago.
Roopnaraine has been visibly ill for at least a year with reports reaching this newspaper that his illness has been so severe that he is often absent from his office greatly stymieing the ability of the Education Ministry to function on a day-to-day basis. His reassignment from the ministry was on the grounds of performance.
Around the Web