Foreign Minister Carl Greenidge has expressed his satisfaction with the efforts of Canada's outgoing High Commissioner, Pierre Giroux, to nurture relations between the two countries and regular political exchanges are on the cards.
Noting the "significant improvement in efforts to advance the relationship with Ottawa especially during High Commissioner Giroux's tenure", a Ministry of Foreign Affairs press release said that Greenidge welcomed the proposal of the Canadian Government to extend its ties with Georgetown beyond trade and development through the creation of a mechanism that would encourage regular political exchanges.
The press release said that during a courtesy call on the Foreign Minister on Wednesday, Giroux, who is also his country's representative to Suriname, said that his departure signalled an end of a cycle, but not the end of a friendship.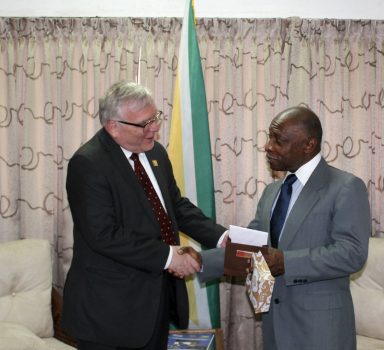 "I have enjoyed exceptionally open relations with the Guyana Government," he stated.
For his part, Greenidge said as a consequence of the High Commissioner's work here, "Canada is well positioned here, not only in terms of lines of communication, but also of activities, contribution and commercial dealings."
After two years of serving in both Guyana and Suriname, Giroux has been reassigned to the position of Vice Inspector-in-Chief of Missions.
The release added that Cabinet recently approved the appointment of his successor, Lilian Chatterjee as High Commissioner-designate to Guyana.
Around the Web