A quantity of improvised weapons and cellphones were among the contraband recovered yesterday in a Joint Services search of the New Amsterdam Prison, after police were tipped off that attempts were being made to smuggle items into the facility.
'B' Division Commander Paul Williams yesterday told Stabroek News that police received reliable information about attempts to smuggle weapons and contraband items into the prison "to create disruption" similar to what occurred at the Camp Street Prison in Georgetown, where prisoners broke out and torched the facility on July 9.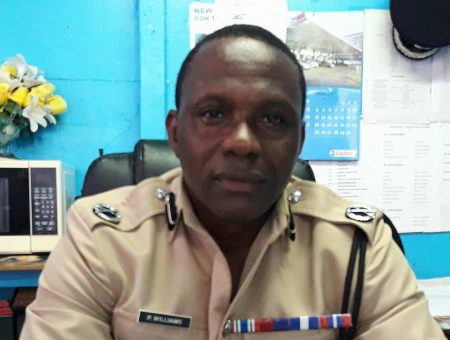 According to Williams, after receiving the intelligence, he immediately contacted the Guyana Prison Service, the Guyana Fire Service and the Guyana Defence Force and conducted a meeting, which led to the prison search. "Prison searches are being done regularly but in view of this information, we immediately mobilised our teams and decided to launch a prison search," he said.
Williams also stated that security will remain strengthened around the New Amsterdam Prison and throughout the district. He said roadblocks in the division will also be intensified. "…We want to ensure that there is no such opportunity… with what has happened in Georgetown," he said. "Definitely throughout this entire period that… we gon' ensure that all that is within our power we are going to do it," he added.
Williams called on residents of Berbice to try and comprehend the situation presently and accept the day to day interruptions that may occur during this period. "We asking them to bear with us and comply. We will ensure that during our exercises and carrying out our duties, we will not make persons uncomfortable or we will not at no time or no stage go beyond the scope and limit to be abusive or any way to cause any problem with our citizens," he noted, while adding that the ongoing 'Clean Sweep' exercise will continue in Berbice until all the prison escapees are recaptured.
Williams, who recently took over the command of the Division, also called for a continued positive relationship between the police and all stakeholders of the region.
He asked, too, that citizens of the region report all information they may have, while noting that all of the information will be acted upon in the interest of keeping the district safe.
Around the Web