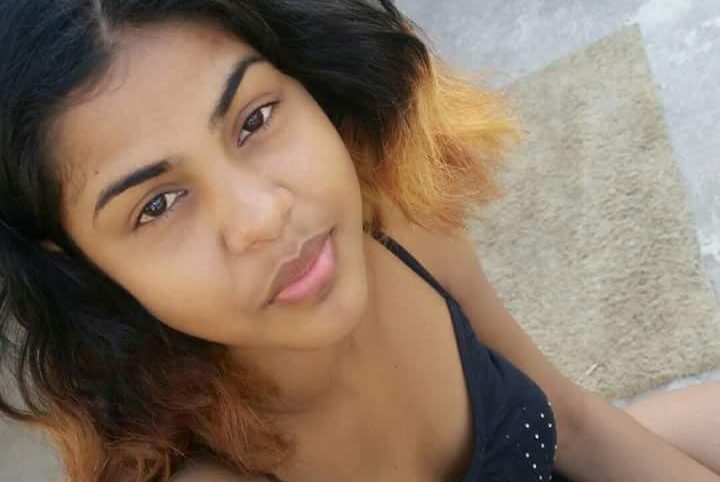 East Canje, Berbice was yesterday afternoon plunged into a state of shock and disbelief, after a 17-year-old resident was found murdered in her home and police launched a manhunt for her 25-year-old reputed husband, who is suspected to have killed her.
Dead is Parbattie Lakhpal also known as 'Rosanna,' 17, of Lot 369 Number Two Village, East Canje, Berbice. She was discovered with her throat slit in the living room of her apartment around 1 pm yesterday.
According to residents of the area, Lakhpal and her reputed husband Ryan Singh, 25, formerly of Eccles, East Bank Demerara, were involved in a heated argument yesterday morning, which later became physical. According to information gathered, the young couple would often fight over money. This newspaper was told that whenever Lakhpal asked Singh for money, he would get upset, which would lead to them fighting, and he would usually become physical with his teen wife.
About three days ago, reports said, Lakhpal requested money to buy items for the house and a fight erupted between them. According to a relative, the teen, tired of the situation, "put Singh out of the house."
However, Singh returned to the Number Two Village apartment yesterday and it is suspected that he slit Lakhpal's throat, then fled. The suspected murder weapon, a black-handle, stainless steel knife was discovered in a toilet close to where the teen's body was found.
Nadira Persaud, 41, of East Canefield, East Canje, Berbice, who discovered Lakhpal's body, told this newspaper that yesterday midday her daughter informed her that the couple was "fighting". According to Persaud, Lakhpal was her babysitter. Yesterday, she said, "She come collect the baby and I tell me daughter come out with she one time to go bible school."
However, minutes before 1 pm yesterday, she said, her children walked into her place of work and told her "…come see Ryan and Rosanna a fight."  Persaud said she went to the house where Lakhpal resided and called out for her. There was no response.
Persaud said she was concerned and called her 'rakhi' brother, who is close friends with Lakhpal's mother. "Clothes been deh burn a back a de house," she said. "We see the fire. When me come out from back me tell them car boy that does deh in front, 'ayo hear them a fight and can't part?'"
By then, her 'rakhi' brother had arrived and he opened the door to the upper flat of the house (Lakhpal and Singh lived in the bottom-flat apartment, while Lakhpal's mother lived upstairs). "When he peep in the apartment he say she lay down there," Persaud said, "so me call for she again and he tell me she foot a show."
She said her 'rakhi' brother then opened the apartment door, which was unlocked, but hooked from the inside. "So me go in and pull she foot. Me think she been a hide. She does run and hide and make joke when abie come. So me pull she foot and then me go pull out the top sheet and me see she throat and me start holler."
Persaud explained that Lakhpal's body had one wound. "She get one long slit around the front part of she neck," she said, adding that her body had been covered with two sheets. "She been cover with sheet and she face been deh sideways and dem cushions deh pon she," she said.
Persaud said Singh had accosted the babysitter on the staircase and chased away her (Persaud's) two children, aged ten and two years old. They left and went to their mother's place of work.
Meanwhile, according to information gathered, the couple had resided on the lower flat of Lakhpal's mother's house for over a year. Neighbours said they would often fight, because Singh was unemployed and was often seen hanging out with known drug addicts in the area.
Yesterday when Stabroek News, visited the scene, Lakhpal's mother, Indrawattie Narain, 42, was crying uncontrollably, asking, "Why he had to kill she?"
Residents of the area gathered in their numbers outside the house. Many were in disbelief.
Lakhpal, a former student of the Berbice Educational Institute, was described as a quiet and kind person. Her body is at the Arokium Funeral Home awaiting a post-mortem examination.
Around the Web