One prison escapee was shot dead during a confrontation with members of the Joint Services yesterday in East Ruimveldt while another turned himself into police at the Brickdam Station, bringing the total number of escapees still on the run after weeks of upheaval to five.
Acting Director of Prisons Gladwin Samuels confirmed to Stabroek News that prison officials positively identified the dead man as Clive Forde, one of thirteen, who escaped from the Lusignan Prison pasture on Monday morning. He also confirmed that Kerry Cromwell, another Lusignan Prison escapee turned himself over to police officers.
The Department of Public Information (DPI) in a statement reported acting Police Commissioner David Ramnarine as saying that acting on information provided by the public the Joint Services executed an operation in the East Ruimveldt ward which led to a confrontation with Forde.
The statement said that the Joint Services received certain information that Forde was hiding out in a house in the area and surrounded the house. Forde attempted to flee and was engaged, the statement said. It was also reported that a 9mm pistol with live rounds was found a short distance away from where his body fell.
According to resident Joy Thomas-Allicock, in whose yard Forde was shot, it was while preparing to do her laundry she heard what sounded like gunshots. "At first I thought that the sounds were coming from a motorcycle."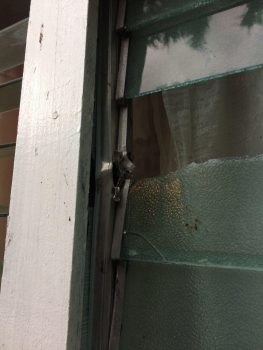 However, as the sounds grew closer and louder she realized that it was actually gunshots. "I dropped what I was doing and I go in the house with my daughters and after I take them in the house I remember the front door open so I crawl and went and lock it and I tell them to lie on the ground. I didn't want leff the door open and next thing the man run in the house and they say I keeping criminals," she related.
She added that, "I thought the shooting was related to some drug story… I never thought it was a prisoner. I see this man in a blue short pants with dreadlocks running across from the Market Bridge and police following him," she said adding that Forde and the police "were in a gunplay."
According to the woman, Forde subsequently ran behind her house in an effort to evade the police. "He ran through the alley and came behind my house and not long after the place was quiet. I got up to see what was happening but an officer tell me 'stay down, don't come out' and I did."
She further stated that when she eventually came out she saw Forde lying in her neighbour's yard close to her latrine and a policeman taking her sheet that she was preparing to wash and covering his body. He was later taken to the Georgetown Public Hospital Corporation (GPHC) where he was pronounced dead on arrival. Sources at the hospital told Stabroek News that relatives of Forde were prevented from seeing the body even though they were quietly waiting in a corner at the hospital.
Thomas-Allicock and other residents related to Stabroek News that the police were chasing behind the late prison escapee for more than half an hour. They believed the shooting started from the West Ruimveldt front road.
The residents also said that a number of spent shells were picked up from the scene. At the conclusion of the shooting, scores of residents flocked the scene to get a glimpse of the lifeless body of the dead prisoner. It is unclear whether Forde was hiding in the area all the time since he and twelve others tunnelled out of the Lusignan Prison pasture on Monday.
Forde, along with accomplice Keiron Taylor, was committed to stand trial in March for the murder of East Ruimveldt resident Senassie Lewis who was gunned down in September, 2015, in front of the Ghetto Flex nightspot in Albouystown.
Cromwell, one of the thirteen men who along with Forde escaped from the Lusignan Prison on Monday, turned himself into officers at the Brickdam Police Station in the company of his mother.
DPI in a statement following his surrender said that Assistant Commissioner Ramnarine stated that Cromwell's mother made contact with a senior government functionary and advised of Cromwell's whereabouts and the family's willingness to turn him in.
His mother along with other relatives, on the advice of the government functionary, then took Cromwell to the Brickdam Police Station where he was placed under arrest and is being held.
Cromwell, 23, was remanded to prison in April last year after he was charged with the murder of Linden bus driver Alvin Lorrimer. Lorrimer was shot while he was standing outside his bus at the Linden bus park seeking passengers in March 2015. Cromwell, who was previously convicted and sentenced to community service on a narcotics offence, has been charged in connection with several armed robberies.
He was charged in March 2011 with robbing two persons, one while armed with a knife, of $124,000 and $19,000 in cash and articles. On this occasion, he was shot by police while being apprehended. In September 2014, Cromwell, along with Nicholas Brazil, was charged with robbing Ashanti Lawrence at gunpoint at Enachu Street, Section 'K,' Campbellville.
In December 2015, he was charged with robbing Deon Hilkin of articles valued $97,000, while armed with a broken bottle. He was also accused of stabbing Hilkin with the bottle and of assaulting a police officer and escaping from lawful custody.
'Rioting against
officers'
On Saturday, members of the Joint Services in an effort to subdue  violent unrest, including attacks on security officials in the new holding area at the Lusignan Prison shot sixteen prisoners with rubber bullets and pellets. Three prisoners were subsequently taken to the GPHC where they were treated and sent away.
Contacted yesterday, Samuels told Stabroek News that prison officials noticed the men tampering with the fence "and they (prisoners) had a problem with that which resulted in us using pellets and rubber bullets."
Also on Saturday, one of six inmates who broke out from the Camp Street Prison on July 9, Stafrei Alexander was recaptured in Berbice.
Commander of 'B" Division Paul Williams told this newspaper that Alexander received medical treatment yesterday and he is currently being processed to be transferred to a maximum security holding facility.
He added that there was no evidence that Alexander received medical attention prior to his recapture since his foot was swollen and the wound still raw.
Alexander, 32, also known as "Anthony Williams" and "Ratty" was arrested shortly after 8pm at Topoo Village, Corentyne.
According to police, Alexander had just emerged from his hideout in the backlands and was heading to a house in the area when police cornered him in an unfenced yard. He was unarmed.
Alexander has been charged with multiple murders, including that of Linden businesswoman Shevon Gordon and a co-accused in the crime. He had previously escaped from police custody while being held for the woman's murder and several counts of robbery. After his recapture, he was charged with murdering Robin Maxwell Thomas, who had been one of the two men jointly charged alongside him with the murder of Gordon. He was also charged with the murder of another man, Richard Remington, which was committed at Cholmondeley Hill, Wismar, Linden.
Paul Goriah and Shawn Harris are the two other Lusignan escapees who are yet to be apprehended, while three others, Bartica massacre convict Mark Royden Williams, murder accused Uree Varswyk and drug accused Cobena Stephens, also known as 'OJ,' remain on the run after escaping from the Camp Street Prison on July 9.
Anyone with information that may lead to the arrest of the inmates is asked to contact the police on telephone numbers 225-6411, 225-8196, 225-2227, 227-1149, 226-7065, 911 or the nearest police station.
Around the Web