A Hadfield Street resident, who was positively identified by the victim of a shooting as the man who tried to kill him, was yesterday remanded to prison for attempted murder.
Osafo Swain, 22, of 29 Hadfield Street, Lodge, was not required to plead to a charge which stated that on July 26, in Georgetown, he discharged a loaded a firearm at Uwert Blair, with intent to commit murder.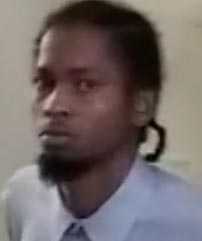 The charge was read to the accused by Chief Magistrate Ann McLennan, in Georgetown.
Police Prosecutor Arvin Moore objected to bail for Swain, while citing the nature and seriousness of the offence as his reasons.
According to the prosecutor, Swain has been positively identified by Blair as the person who shot him. Moore also noted that Blair is still hospitalised and he voiced his concern that the accused may want to tamper with witnesses if granted his release.  The prosecutor also mentioned that although police investigations of the crime are completed, they are still trying to retrieve the weapon.
Chief Magistrate McLennan subsequently remanded Swain to prison until August 18, when the matter will be called for report.
Around the Web