The Mayor and City Council yesterday halted construction with immediate effect on a Regent and Wellington streets building, citing discrepancies with the western boundary.
Building Inspector Supervisor Marlon Harris along with other representatives from the City Council, visited the construction site located on the south-western corner at the intersection of Regent and Wellington streets.
According to Harris, while the metal structure that is currently being erected has been improved, there are some discrepancies with the "western boundary of the lot."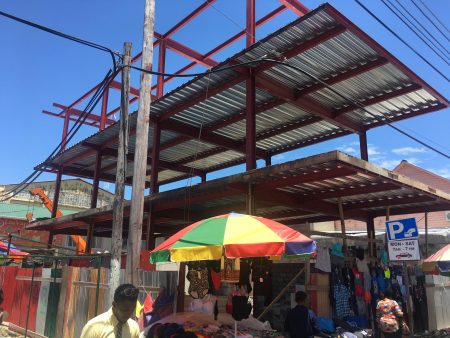 "Until that is sorted out then it can't go ahead. There are discrepancies with the true boundary," he said.
Harris explained that about two weeks ago the person erecting the structure was verbally told to stop the construction but had not listened. As such, a letter was issued to a representative of the owner yesterday, instructing that a halt be placed on all construction until the issue is sorted out.
"We issued a letter to the owner and gave them a time frame to come in. They have about 72 hours to come in and have it sorted," he said, adding that the work cannot continue until the owner visits the City's Engineering Department and sorts out the issue.
When the team from the council visited yesterday there were about a dozen workers doing construction work on the building. When Harris asked to see the owner of the building, he was told that the person was not available. However, a few minutes later, someone who identified himself as the owner's representative showed up and he was issued with the letter.
Around the Web