The victim of the fatal Herstelling, East Bank Demerara (EBD) accident was yesterday identified as Ingrid James of 1294 Section C, Block Y, Golden Grove, EBD.
Police said James was identified by her daughter Ernecia Nicholson at around 1 pm.
James was struck down on the Herstelling, Public Road on Saturday night which resulted in her losing a leg and succumbing to her injuries.
A statement from the police on Sunday morning said the woman was hit by a car bearing registration number PKK 3251, which was travelling south along the eastern carriageway of Herstelling, and allegedly speeding at the time of the collision. The release also said that the woman was reportedly crossing the road from west to east at the time, and walked into the path of the vehicle.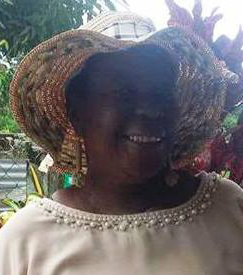 As a result of the collision, the woman's left leg was severed and she sustained injuries to the head and body. She was pronounced dead on arrival at the Diamond Hospital, after being transported there in an unconscious state.
Meanwhile, at the woman's home yesterday afternoon her children were in disbelief and a state of shock after learning of the tragedy.
Her son Jamaal Williams told this newspaper that his mother had left home on Saturday to visit relatives. However, after she did not return on Saturday night, he said, they called her but the calls went unanswered. He said they never imagined that she had been involved in accident, believing she was at the relatives' home.
According to the son, they decided to visit the funeral home yesterday afternoon after police released the pictures of the woman who had been struck down on the public road; their worst fears were confirmed. The son explained that it was difficult for anyone to identify his mother since persons who at the accident scene stole her personal items including her identification card and cellular phone.
"You know I saw the news and I saying to myself that man had to be driving real fast to knock down that woman… never did I think so far that it would be our mother…," the grieving son lamented.
The 45-year-old driver, a resident of Mocha, EBD, was subjected to a breathalyzer test that revealed that there was no alcohol on his breath. He is currently in police custody assisting with investigations and a post-mortem report is being awaited.
Around the Web