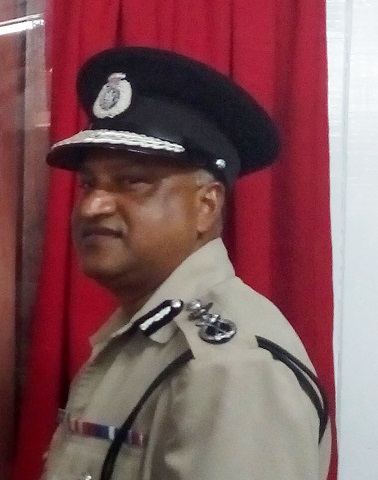 Commissioner of Police Seelall Persaud yesterday contested testimony that he had passed instructions to release the main suspect in the alleged plot to assassinate President David Granger, maintaining that he had merely made suggestions and given his opinion on the matter.
Persaud issued the denial when he testified before the Commission of Inquiry (CoI) investigating the claims made by Andriff Gillard that he was offered $7 million by businessman Nizam Khan to assassinate President Granger and the police force's handling of the investigation.
Persaud, appearing on the heels of several police witnesses who testified to him passing the order to have suspect Nizam Khan, his brother Imran Khan and the complainant, Gillard, released on the night they were held for questioning, denounced the claims, saying that he had merely made a "suggestion."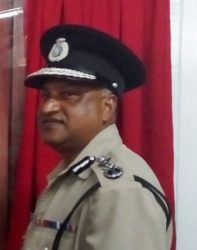 Persaud's evidence was led by Commission attorney James Bond, who was appointed after Imran Khan's lawyer Christopher Ram raised concerns last week that the Commissioner, Paul Slowe, was asking leading questions.
Persaud testified that Imran, whom he acknowledged is a friend that he has known since 2004, had initially made him aware of the matter when he called him on the afternoon of March 29, to complain that the police had searched his brother's premises without a warrant or without informing him why they were executing the search.
He stated that he called Crime Chief Wendell Blanhum, who related to him the allegation Gillard had made, and based on that, he called Imran and told him to have his brother cooperate with the police.
Later, while returning a missed call from Imran, the man complained to him again, this time saying that Gillard had threatened him and the police failed to take a report as they had not been witness to the incident.
Imran would call yet again that night to indicate that he was placed on $20,000 bail for disorderly behaviour but he did not have the funds on him to make the payment.
Persaud testified that he attempted to call Blanhum as well as Superintendent Mitchell Caesar, but both calls went unanswered. He stated that he called Inspector (Prem) Narine and suggested that Imran be released on his own recognisance instead of the bail amount put to him.
He stated that he would not find it strange for Narine to take his suggestion as an instruction, as that is the culture in the police force, but added that what he expected was that Narine would factor in his suggestion with his own judgement, and include consultation with his superiors.
Notably, Persaud, under cross-examination by attorney Selwyn Pieters, also later said that had Narine not released the Khans, he would have been disciplined for breaching policy, which states that no one should be held in custody for longer than is necessary.
This was after Pieters put to him that Narine had testified that had it not been for Persaud's instruction, he would not have released either of them.
Pieters is the attorney for reporter Travis Chase, who had broadcast an interview with Gillard.
Persaud clarified later under questioning by Slowe that in relation to Nizam Khan's release, he had shared his opinion—which was that the statement given by Gillard was lacking in credibility and that an investigation into such would not conclude within 72 hours. This, he said, was based on the briefing he received from Narine, who told him that it was his opinion that Gillard was lying. (Persaud also stated that he supports Gillard being charged with supplying false information to the police, as there are three witnesses of testified to the plot being fabricated.)
Persaud indicated that he, too, would have released Nizam on bail as it is wrong to keep someone who has not breached the law in custody, while stating that his judgement "was sound then" and still is sound now.
Responding to acting Police Commissioner David Ramnarine's testimony that persons are placed in custody for 72 hours for lesser offences, Persaud stated, "That is a huge lack of conceptual skills. The issue of bail is not premised only on the gravity of the offence, there are a number of other issues," and he reiterated the principle that persons should not be held longer than necessary.
He stated that in this particular case, the gravity of the offence is not the only factor, but there is also the credibility of the person filing the report, whether the suspect is a flight risk and can interfere with the investigation and other considerations.
He said that it would have been a grave injustice to have kept Imran in custody based on a false report.
Addressing Gillard's release, he stated that he did not know that the man had also been arrested.
Credibility
Pieters asked whether Persaud was aware that Ramnarine questioned the credibility of the investigation. Persaud stated that, unfortunately, the Assistant Commissioner of Police had not done so during the course of the investigation, only at the inquiry. In his opinion, the matter had been properly investigated.
When being examined by his lawyer Glen Hanoman, Persaud said that there was no logic for Ramnarine's claims and that his conclusion seemed to be something he "made up while he was in this box."
Persaud further stated that there was nothing that indicated that Nizam Khan being put on bail interfered with the investigation and added that he showed up on every occasion the police requested.
Asked by Pieters whether Ramnarine ever gave him cause to doubt his competence in acting in the capacity of Commissioner, Persaud evaded the question, stating that that is not his choice and only referencing the fact that according to policy, Ramnarine is required to act while he is away.
He later stated that he has made known to the minister instances of what he believed to be unprofessional behaviour demonstrated by Ramnarine, but noted that whether or not action is to be taken is not within his purview.
Pieters asked Persaud if he was mistaken or lying when, during an interview with Leroy Smith, he had told reporters that Chase had never provided information to the force regarding the matter. Persaud said that he did not think he ever said such. Based on this response, Pieters requested that the commission play a recording of the interview, which showed Minister of Public Security Khemraj Ramjattan and the Commissioner of Police before the camera, responding to questions from media personnel.
After the video was shown and the question was posed to Persaud again, he stated that he was not lying and that he was not aware of the existence of a recording that Chase had made as there was no mention of it in any of the reports he received.
Pieters pointed out that that was why he had asked earlier whether he had reviewed the report.
Persaud, under questioning by Pieters, said he was unaware of Chase saying that he believed the police were covering up the matter and he added that he did not know that Chase had any evidence pointing to such.
The Commissioner also stated that he had never taken any notes in relation to the matter as he did not see it as necessary, to which Pieters threw the suggestion that this was so because of negligence of duty. The attorney suggested that Persaud was "willfully blind" as regards the matter and wanted nothing to do with the investigation, which is why he failed to review the file when he resumed his role as Commissioner, as he earlier indicated.
Persaud countered, stating that he did not do a review because he believed the officers in charge of investigations were competent, while noting that his job is not to investigate matters but to ensure that proper investigations are done. He said he had been receiving constant updates from officers, who were also acting on legal advice.
Firearm upgrade
Persaud related that as far as he was aware, Imran Khan is the owner of three firearms—a rifle, a shotgun and a handgun.
He admitted that he approved a requested upgrade for Imran's handgun from a 9mm to a .45 pistol, a higher calibre, because of the man's gold mining venture.
Slowe asked if such an upgrade is policy, to which Persaud said it has been done in the past. Slowe had commented during a previous hearing that he was not aware that civilians were owners of .45 pistols.
The Commissioner of Police denied being in business with Imran.
Motion to remove counsel
Meanwhile, Pieters, following Persaud's testimony, informed the commission that he was desirous of moving a motion to have former chief justice Ian Chang, counsel for the police force, removed from participating due to conflict of interest and the possibility of him being called as a witness in the proceedings.
Chase had alluded in his testimony before the commission to Chang sharing a friendship with both Persaud and Imran Khan.
Following an in-camera hearing, Chang returned to his seat at the counsel table, although he did not question any of the witnesses who appeared yesterday. Slowe would not comment on the details of the hearing.
Around the Web