Shawn Harris, one of the 13 inmates who fled from the Lusignan Prison pasture last Monday was yesterday morning apprehended in a house at Mocha, East Bank Demerara and two other persons who were present in the house at the time were also taken into custody.
Guyana Police Force spokesman Jairam Ramlakhan confirmed that Harris called 'Shawny' or 'Bruk Up' was arrested around 07:20 hrs yesterday in the bottom flat of a two-storey house in Mocha, without any incident.
The husband and wife who occupied the upper flat of the house, Ramlakhan said, have also been arrested.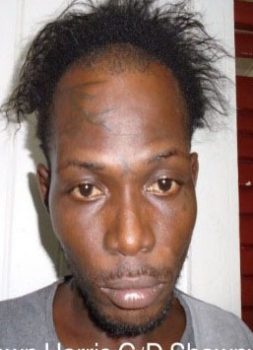 Thirty-one-year-old Harris of Pike Street, Kitty and 12 other inmates escaped from the facility last Monday between 1 am and 2.30 am during a heavy downpour, after digging a tunnel that took them under the fence and into the backlands.
Harris was charged with the murder of vagrant, Sunil Singh, also known as 'Grey,' on February 5, 2017, at Owen Street, Kitty. Singh had been fatally stabbed after he attempted to rescue an employee of a Lamaha Street nightclub from an attack by three men.
Harris was also one of the suspects charged in connection with the robbery of the Bank of Baroda branch at Mon Repos in January 2016.
Four men, one of whom was armed with a gun, had entered the bank and held up the lone female private security guard on duty and took away her .32 service revolver.
During the attack, which lasted for about five minutes, the men then held up the two female tellers, grabbing over $2 million in cash and escaping in a waiting car bearing the false registration plate PNN 8984.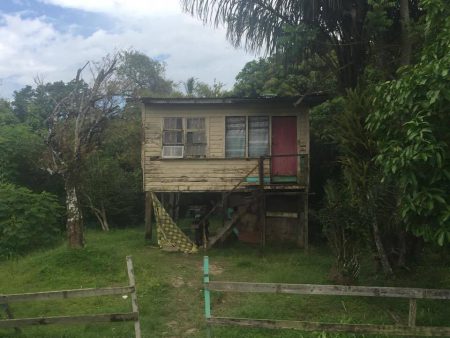 Meanwhile, since July 9 when several fires started by inmates destroyed almost the entire Georgetown Prison, a total of 19 prisoners managed to escape, six during and after the Camp Street fires and 13 from a holding facility at Lusignan on July 24.
However, 12 of the latter have since been recaptured. Winston Long, Tishan McKenzie, Odel Roberts, Jamal Forde, Rayon Jones, Jason Howard and Jamal Joseph were nabbed at various locations on the evening of July 24, hours after their escape. Kendell Skeete was nabbed in an abandoned house in Wisroc Housing Scheme, Wismar, Linden on Wednesday. Pascal Smith was apprehended in a pit latrine in Kitty on Friday, while Clive Forde was shot dead on Sunday during a confrontation with members of the Joint Services in East Ruimveldt. Kerry Cromwell turned himself over to the police at the Brickdam Station in the company of his mother.
Three of the former group, Stafrei Hopkinson Alexander, Cornelius Thomas and Desmond James, have since been recaptured; Bartica massacre convict Mark Royden Williams, Uree Varswyck and Cobena Stephens remain on the lam.
Public Security Minister Khemraj Ramjattan during a press conference yesterday said that if anyone is caught harboring these inmates they will be dealt with to the fullest extent of the law.
He acknowledged members of the public, who he said provided useful information to the police, which led to the recapture of several prisoners.
Ramjattan urged members of the public to continue to be vigilant and to report all information to the police. He further pleaded with the family members, relatives, friends and associates of those on the run to turn them in if they are in contact with them or know of their whereabouts.
He also thanked the Joint Services for their "tireless work and relentless effort" in pursuit of the fugitives and for doing so without the loss of life of any civilian.
"The Guyana Prison Service with support of the Guyana Police Force and Guyana Defence Force (GDF) have also been vigilant in maintaining order at all the prisons and ensuring that any intent of plotting to escape is thwarted," he said.
He added, "nothing is being taken for granted and the security is being further beefed up to ensure that the integrity of the prisons is high and that safety and good order prevail in society and citizens can feel a heightened sense of security."
Around the Web